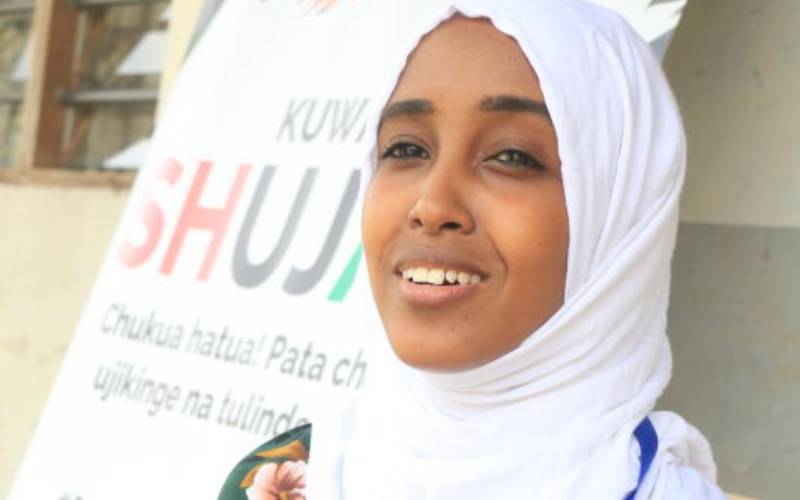 Twenty-five-year old Leila Abdulkeir (pictured) is a woman on a mission.
Despite coming from a conservative background, she has chosen a path that is bound to cause jitters among her community.
Leila is pushing for adoption of family planning and other sexual and reproductive health rights among her people.
We caught up with the petite woman at Mnarani Dispensary in Kilifi County.
As the President of Kilifi Youth Advisory Council for Health and the Executive Director of Youth Voices and Action Initiative, Leila has been moving mountains in her quest to see that the youth in Kilifi County can access the sexual and reproductive health services they need.
She has fought for young women aged 15–24 to access contraceptives, a move that has gone a long way in reducing teenage and unwanted pregnancies in Kilifi, despite criticism from religious leaders and the community for what they say is an "immoral" mission.
"When we engaged men and asked them to embrace family planning, many wondered what we (women) were telling them," said Leila.
But Leila will not get deterred - she has a deep passion for the rights of women. She laments that Muslim women often don't have a platform where they can articulate issues that affect their reproductive health, as religion considers sexual matters sacred.
"The 'Mwenye syndrome' (a belief that husbands own their wives and the man's say is final) is a hindrance to our advocacy work. Many young women cannot make decisions affecting their reproductive health. The husband or mother-in-law must give consent before the young women is put on birth control," said Leila.
Leila, who is of Somali origin, has used her leadership position at Kilifi Youth Advisory Council to established Youth Advisory Councils for Health in various wards in the county, and started dialogues with men and the elderly women on the need for teenage girls to embrace family planning methods.
She said they started involving their partners (husbands) and elderly women and sensitised them on the need to allow the girls to make their own decisions on issues affecting their bodies.
Her efforts are bearing fruit. According to Kilifi County Family Planning status report released last December, the number of teenage pregnancies in Kilifi has declined from 31 per cent to 13.6 per cent for the last two years.
For that success and to make her work sustainable, she works with the Binti kwa Binti program with the help of the county government.
The program is an initiative that brings together women and girls to help improve their reproductive health.
Different health facilities
"Pregnant women are mobilised are assembled in different health facilities across the county during 'maternity day' after every four weeks where they get family planning services," says Leila.
Data from the Performance Monitoring for Action (PMA) Kenya for Kilifi County shows that in the past two years, about nine in every 10 women using a modern, female-controlled contraceptive method in Kilifi reported that their partners knew they were using a method of family planning.
At least 84 per cent of the women discussed with their husbands before going for family planning.
"Family planning ensures girls are not exposed to health-related complications arising from early childbearing. They can avoid unwanted pregnancies and only get babies when they are at the right age and they have resources to cater for their children," said Leila.
Leila said that lack of information on sexual health and family planning, was among the leading factors that saw Kilifi record an increase in teenage pregnancies.
"Parents don't talk freely with teens about sex and most are in denial that children are sexually active. When the girls become pregnant, they are forced to get married immediately to safeguard the family's reputation," said Leila.
Meanwhile, Leila says her group helps girls who drop out of school after getting pregnant to start income-generating activities so they can take care of their babies.
Kadzo Katana, 19, from Rabai in Kilifi County is a mother of two children aged three and 18 months. She is a beneficiary of Leila's work.
"I first got pregnant at 16 while in Form Two and dropped out of school. When the baby was a year old, I got pregnant again. The first one was from a boda boda rider and the second one was from a truck driver," said Kadzo.
Kadzo said the rider used to buy her sanitary pads and she gave in to his sexual advances as a sign of appreciation.
Soon after she got pregnant, the rider took off.
The truck driver took care of her when she was pregnant with her first child and after she gave birth but vanished when she got pregnant with the second child.
Kenneth Miriti, the Kilifi County Reproductive Health Coordinator, said through Leila's work and the work of other advocates and partners, the uptake of family planning methods has increased from 30 per cent in 2018 to 70 per cent in 2022.
He says over 17,000 teenage mothers have now embraced family planning methods.