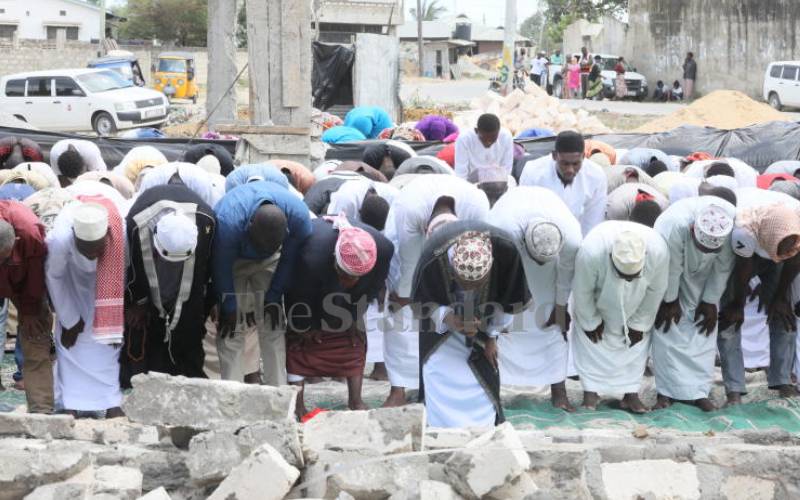 Hundreds of squatters who have put up permanent houses at the Kwa Bulo settlement area in Nyali sub-county in Mombasa face eviction following the expiry of a notice to pay for the land or evacuate.
Over 10,000 families live in the 86.7 acres piece of land. There are six churches, four mosques, and schools.
The squatters have been asked to pay between Sh1 million and Sh10.5 million by April 15 to continue occupying the land.
Kenya National Assurance Company Limited issued the notice on December 6 last year asking the settlers to pay a 10 per cent deposit by January 15 this year and clear the remaining amount in 90 days.
Kwa Bulo squatters settlement scheme chairman Omar Tsori appealed to President Uhuru Kenyatta and Mombasa Governor Hassan Joho to intervene and save their homes from being pulled down as they could not afford the selling rates.
Addressing the squatters at Kwa Bulo Primary School on Sunday evening, Tsori asked the government to intervene as it did for Mukuru Kwa Njenga in Nairobi and Waitiki farm in Mombasa, Likoni, to avoid a humanitarian crisis.
"The notice for us to pay a 10 per cent deposit for the land has already expired and we are worried bulldozers might be deployed to destroy our homes. We are appealing to the head of State to intervene and save us from eviction," Tsori said.
He noted that the dispute over the land intensified in 2005 when their houses were demolished as Kenya National Assurance tried to sell the land to Kencent Holding Limited at Sh43 million but the squatters refused to move out.
Former Nyali MP Awiti Bollo who attended the meeting said he has written to President Kenyatta and ODM leader Raila Odinga petitioning them to save the squatters' homes on the disputed land where they have lived for over 20 years.
"The State should come up with an amicable solution to save the families who are living in fear on the disputed land. The families have been threatened with eviction from the land they have lived on for over 20 years. I am surprised that this land issue comes up every election year," Bollo, who is Vibrant Democratic Party (VDP) leader, said.
Bollo noted that the dispute started when governor Joho was area MP and that both national and county governments have promised to find an amicable solution but squatters still face threats of being evicted.
Changamwe parliamentary aspirant Ezekiel Kiminza said land ownership disputes in Coast required legislative intervention.