Kwale race intensifies as Salim Mvurya drums up support for his deputy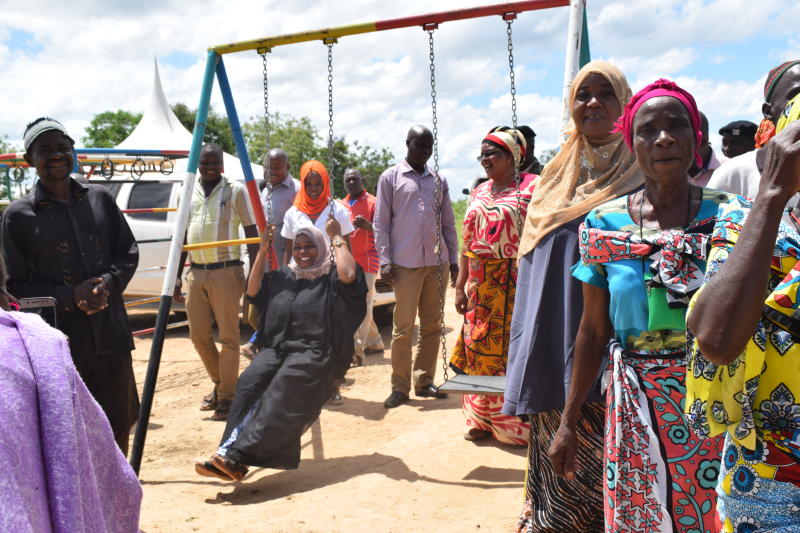 The race to succeed Kwale Governor Salim Mvurya has attracted six aspirants including his deputy Fatuma Achani of the United Democratic Alliance (UDA).
Most of the aspirants say they will focus on education, health and agriculture sectors.
Others want to address unemployment and poverty facing locals in a county bestowed with huge mineral deposits, tourism opportunities, fishing and agriculture.
Agriculture Principal Secretary Hamadi Boga, Kenya Ports Authority engineer Lung'anzi Chai Mangale and Kwale County Assembly Speaker Sammy Ruwa are battling it out for ODM ticket.
ODM leader Raila Odinga sparked rivalry in ODM when he addressed aspirants and supporters at Matuga Girls High School in Kwale last month and pledged free and fair nominations. The ODM leader said the party would choose candidates through consensus or an opinion poll to vert a fallout.
Deputy Governor Fatuma Achani, the only woman aspirant, has been traversing the county in a bid to succeed Mvurya who has endorsed her bid and graced her campaigns.
Ms Achani was also endorsed by Deputy President William Ruto in October last year, prompting Mangale, one of the front runners in the race, to shift allegiance from UDA to ODM.
Earlier, Lunga Lunga MP Khatib Mwashetani, who is an ally of the DP, quit the governor race in favour of Achani.
Former minister Chirau Ali Mwakwere, who is the chairman of the Wiper Democratic Movement and Mr Gereza Dena of Kanu, have also declared their interest in the governorship seat.
Engineer Lung'anzi said he was ready to quit his KPA job next month, adding he was already setting up his campaign team in Kwale.
"I am already set. I am prepared to quit KPA and embark on my campaigns," he said yesterday, confirming he had settled in ODM after a debacle in UDA following Achani's public endorsement by Ruto.
Speaking in Kwale after hosting Raila, Prof Boga who has teamed up with Principal Secretary Safina Kwekwe as his running mate, said he will unite communities, boost agriculture and fight poverty if elected governor.
Prof Boga defended himself against accusations that he failed to promote agriculture in the county while serving as PS, saying the sector was devolved and his department has no single officer under him in the counties.
"Agriculture has been devolved and has officers under the county government. Kwale has potential in cashewnuts, oranges and fish but this remains untapped," he said.
Ruwa, who attended Raila's meeting, said he was ready to face rivals for the ODM ticket, saying he was best placed to succeed Mvurya after serving as speaker for nearly 10 years.
On Saturday, Mvurya criticised Boga for allegedly failing to promote agriculture in Kwale while he served at ministry.
"He has been agriculture PS. So what was it that stopped him from promoting agriculture in Kwale in his capacity?. He is only giving empty promises," Mvurya said.
Speaking during the distribution of Msambweni constituency bursaries last Saturday at Mvindeni in Ukunda, Achani challenged her opponents to show what they had done for the people.
"My opponents have held big positions for years but what have they done to justify their quest to be elected governor? Ask them to show you even a single project they have done for the people," she said.
She claimed some of her opponents were peddling lies that she was being investigated by the Ethics and Anti-Corruption Commission (EACC), saying it was a sign of desperation.
Msambweni MP Feisal Bader praised the Mvurya-Achani administration, urging voters to elect Achani in the August 9 polls.
Mshenga Ruga, who is a Senate aspirant in UDA, urged voters to elect Achani to safeguard Mvurya's legacy.