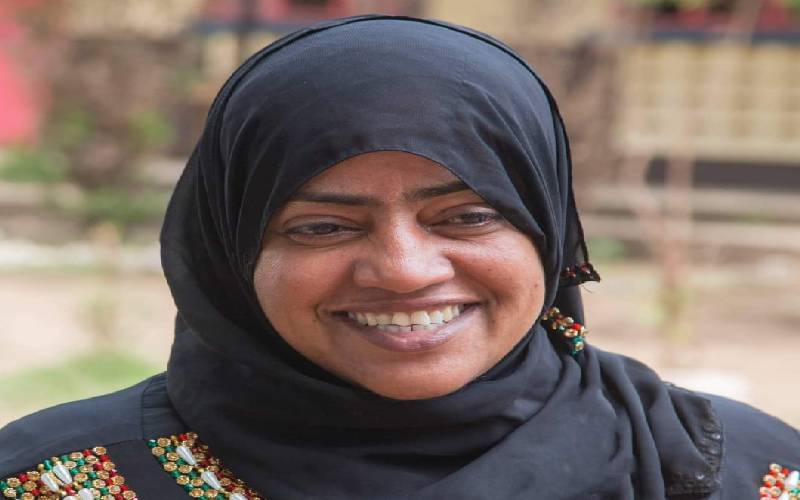 Lamu Woman Rep Ruweida Mohamed has said she is okay after a boat they were travelling in capsized in the Indian Ocean last Thursday.
Ruweida (pictured) downplayed media reports indicating they were still in hospital, adding that all of them were safe and okay.
Speaking to The Standard on phone on Tuesday, the lawmaker thanked Kenyans for praying for them, adding that it is by God's grace they escaped with minor injuries.
"We are all safe, we sustained minor injuries which were treated and everyone discharged," she said.
Ruweida and over 10 people who had accompanied her to Faza Island sustained injuries in the evening of December 23 after a boat they were travelling in hit a rock near Mkanda Channel and toppled.
According to the Woman Rep, two people were thrown out of the boat but managed to swim back to the boat before they were rescued and taken to hospital.
"Two of our colleagues were thrown into the ocean but they managed to swim to safety," she said.
Ruweida said she had led a team of government officials including local chiefs to Faza Island for a sensitisation meeting and were returning to Lamu when the accident occurred.
She has called on the government to remove the rock at Mkanda Channel to avoid future accidents.
"The government must remove the rock at the channel to avoid similar accidents in the future," said Ruweida.
Ruweida said their rescue was quick because it was still daytime adding that it could have been worse if the accident occurred at night.
"We are lucky the boat toppled at around 6 pm, things could have been different if it was in the dead of the night."
Mkanda Channel is a marine channel situated northwest of Manda Airport and east of Mto wa Kikoni.
Sea travellers from Lamu Island to the far-flung islands of Pate, Siyu, Faza, Kizingitini, Mkokoni, Kiwayu, Ndau and Kiunga have to ply the Mkanda, Kililana and Manda Bay channels in the Indian Ocean in Lamu to connect their journeys to their destinations.