Call for donations after scores of houses and animals washed away in Taveta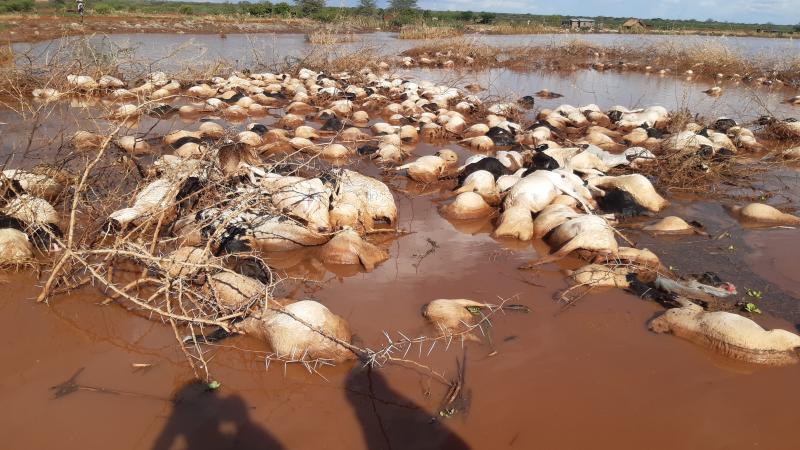 Scores of people have been displaced and hundreds of livestock swept away following heavy rains in Taveta sub-County.
Jipe and Kimorigo are some of the worst hit areas, according to the MCAs Chanzu Khamadi (Mata) and Jones Fundi Maskuji (Mboghoni).
Mr Khamadi said about 1,500 goats and sheep were killed on Friday and Saturday night. But the national government has disputed the figure.
"The floods have worsened the situation in the areas, which have been facing food scarcity caused by prolonged drought," said the leaders.
Mata acting chief Violet Lukindo said village elders were still on the ground collecting data on the damage caused by the floods.
"I can confirm that more than 400 animals have been swept away. Houses and hundreds of acres of food crops have been destroyed," said the administrator.
Kenya Red Cross officials put the number of households affected at 45. Areas worst hit include Lambo, Abori in Jipe.
One of the farmers, Justine Kitheka, said he had lost 10 goats, acres of crops, among other properties worth over Sh400,000.
"We have no one to turn to because we are yet to receive assistance from the government and other donors," said Kitheka.
Ms Lukindo said the government was doing everything possible to ensure it helps the affected residents.
"Village elders are on the ground collecting data which will help the government and humanitarian organisations to come in and assist the affected residents," said the administrator.

At the same time, key roads leading to the agricultural rich areas have been damaged. Mudslides have washed away sections of some roads.
Khamadi and Maskuji said a seasonal river burst its banks, submerging several houses and crops.
"The floods have compounded the already existing poor state of the roads. The government should come in and intervene," said Maskuji.
Other areas prone to floods include Kimorigo, Eldoro and Mata in the sub-county.