Please sell us the land, Kilifi squatters tell land owners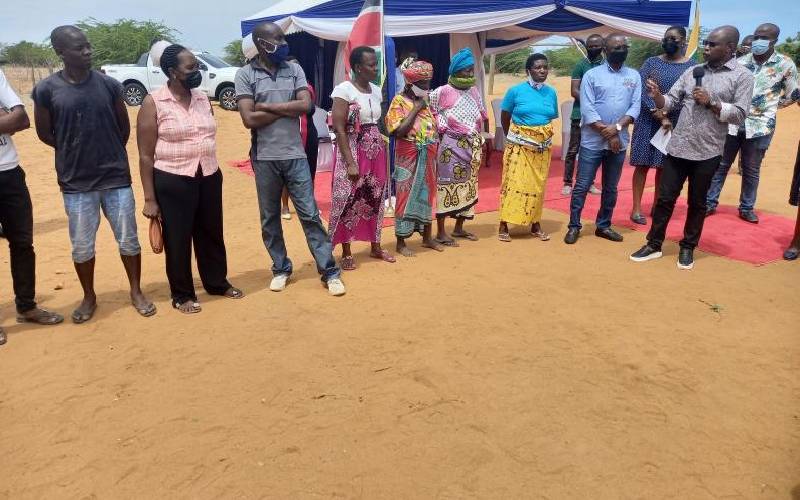 More than 3,000 squatters facing eviction at Kadzuhoni in Magarini, Kilifi County, following a court order are hoping owners of the land they have been staying on can sell it to them.
The squatters have formed a team to negotiate and hopefully convince landowners to sell their property to them as they seek an amicable solution to the dispute.
And in the event that both parties reach a deal, the team the squatters have formed will also be expected to negotiate the price and the payment plan.
After a protracted legal battle, the court ruled that the 339 acres belong to three tycoons. However, the squatters went back to court and filed an appeal.
It was on April 9, 2019 that Justice James Olola of the Environment and Lands court had ruled in favour of Amir Ahmed and two others.
The judge ruled that Ahmed had proved beyond reasonable doubt the land belonged to them and that the squatters had no ownership documents.
And on Tuesday, the squatters said they were ready to buy the land from the owners.
Mr Kalama Kazungu, one of the squatters, said they were tired of the never-ending court cases and were ready for an alternative means of ending the dispute.
He said at least 837 pupils at Kadzuhoni Primary School will be affected if the second round of evictions is done.
"We have wasted a lot of time, fighting for this land in court. We are ready to engage the landowners," said Kazungu.
Recently, area governor Amason Kingi and Magarini MP Michael Kingi asked the squatters to form a team that would lead the negotiations.
According to the recent survey by the county government, there are 572 structures on the land.
"We hope to have negotiations with the landowners so that this matter is settled permanently," said Kilifi County Lands executive Maureen Mwangovya.
County Attorney Bibi Fondo told the residents to suspend any activities on the land since talks were ongoing among the advocates.
"Talks are underway. Your committee will now engage the owners directly," she said.
Magarini MP said the appeal case and the talks would go on concurrently. In case the negotiations succeed, he said, the case will be withdrawn.
"We want to talk with these people to find a solution. But you should not forget that your appeal is in court, and it will only be withdrawn if the committee succeeds in solving the issue," he said.
He said if the talks fail, they will engage the national government.
Governor Kingi warned they will ensure the new committee will not have outsiders and the talks would take one month.
"My prayer is to bring you title deeds before the end of my term next year. I am very confident it will happen," he said.