3,000 squatters evicted from KWS land in Taita Taveta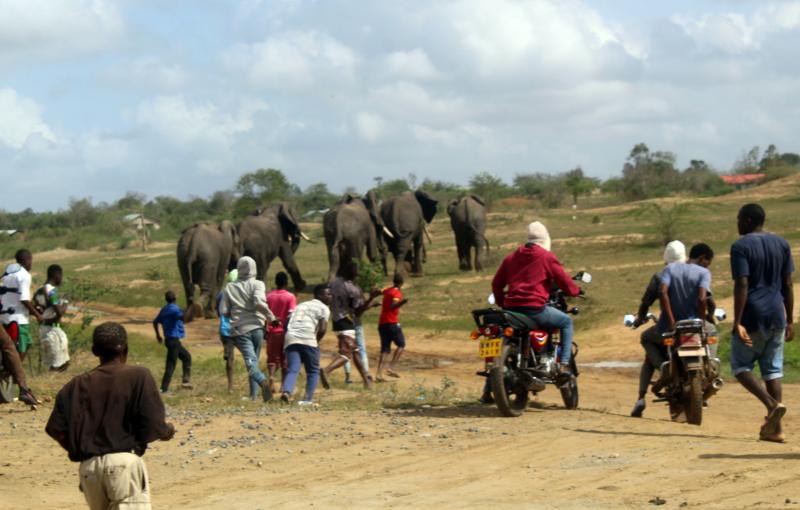 Over 3,000 squatters were on Wednesday evicted from Tsavo East National Park in Maungu, Taita Taveta County.
Government officials said the squatters had hived off part of the park, illegally subdivided it and constructed houses. Hundreds of officers from various security agencies evicted the invaders from a section of the park along the Mombasa-Nairobi highway.
Voi Deputy County Commissioner Daniel Nduti said the eviction followed an order Kenya Wildlife Service obtained from the High Court in Mombasa. Officers from the GSU General Police, AP, DCI and Prison warders were on guard as bulldozers flattened their houses.
"About 600 households have been evicted. They invaded and occupied KWS land. While on the land, the squatters also engaged in illegal activities such bush meat trade and charcoal burning," Nduti said.
He said the invaders were issued with a notice to voluntarily leave but declined. "They have also been blocking wildlife migratory routes," said the administrator.
He disclosed at one time, a Standard Eight pupil was attacked and killed by a lion in a village Tsavo East National Park thus the invaders were risking their lives by staying on the land.
"Those evicted are professional squatters. They had been allocated land elsewhere but sold it before invading this one. They have their homes and should go back there," Nduti said.
He said some of those evicted were among those compensated during the construction of Standard Gauge Railway after their land was taken but did not bother to buy land elsewhere. The land, registered as 27743, has for years been an epicenter of conflicts between squatters and KWS. Both sides have claimed ownership of the property. Recently, transport along the highway was disrupted after the squatters staged a demonstration to oppose the eviction.
"The security team raided our homes in the morning and kicked us out of our houses before demolishing them. As I am talking now, more than 100 houses have been flattened and the exercise is still going on," said one of the victims, Idris Mohammed.