Governor wants Sh20b dam stopped over compensation of landowners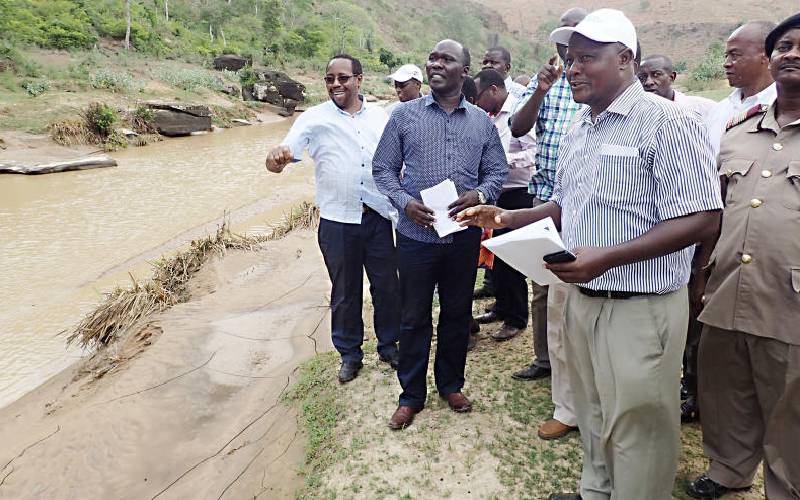 Governor Salim Mvurya wants construction of the Sh20 billion Mwache Dam in Kinango, Kwale County, stopped until landowners are compensated.
Construction of the dam, expected to boost water supply in Kwale and Mombasa counties, is expected to start in March next year.
The dam will also see 2,600 hectares of land put under irrigation in Kwale, according to officials.
More than 1,600 people, from 24 villages in Kinango sub-county, will be affected by the dam with a capacity of 118 million cubic metres of water.
But area governor feels those who will be affected should be settled before the contractor moves to the site.
Mvurya told World Bank and the national government officials at his office on Wednesday that all pending issues must be addressed, especially compensation and resettling of those affected, before the project can start.
"We held a meeting in this office last November with officials from the Ministry of Water, Sanitation and Irrigation and the National Land Commission when we agreed issues of compensation, resettlement and social corporate responsibility matters have to be resolved before the project is launched," said Mvurya.
He added: "Disputes on the compensation rates arose. They had to be reviewed upwards. We mandated the NLC to report this to Nairobi then come back with the new recommendations. But this did not happen and what we heard was NLC officials were on the ground making those set to be affected by the project to sign some forms. This is wrong. You cannot implement the project without involving the county government."
World Bank representatives Ms Catherine Tovey and Mr Adrian Cutler said the county administration, local leaders and the affected residents must work together if the project is to succeed.
Also present at Wednesday's meeting were Kasemeni MCA Anthony Yama and his Mwavumbo counterpart Joseph Ndeme Kitumbo.
"We have reached an encouraging level in the implementation of the project. A lot is happening on the ground and we are optimistic that soon, the project will be launched," said Ms Tovey.
The MCAs lamented that they have not been involved in the project yet. "This has made it hard for us to fully support it. There seems to be a communication problem. More often than not, we just hear some people are on the ground doing this and that but we are not aware. This is a gap that should be filled," said Yama.
Mr Kitumbo said while the dam will be beneficial to residents, certain things have to be done before the project is launched, including the construction of roads and schools and other infrastructure planned for the areas where those giving up their land to pave the way for the project will be moved to.
Last month, Deputy President William Ruto said the government was ready to launch construction of the dam.
Ruto, who spoke in Kinango, said the government is also pursuing a plan to implement the construction of a second Mzima pipeline from Taita Taveta to Mombasa.