Waterfront park finally opened for traders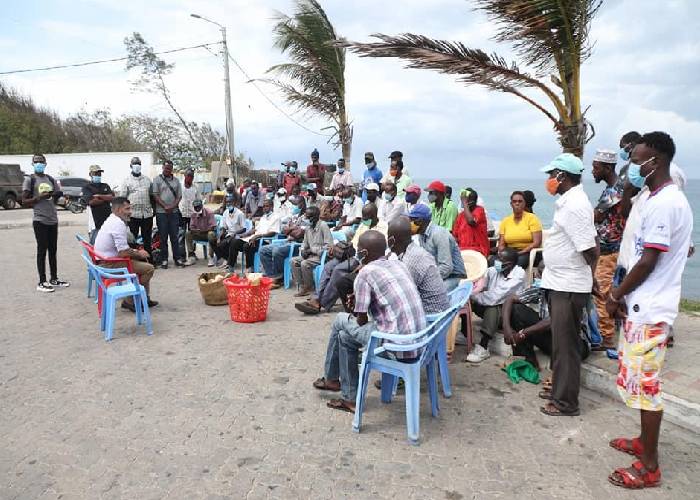 Over 1,000 small-scale traders got a reprieve after the State partially re-opened Mombasa's Sh450 million Mama Ngina Waterfront yesterday.
Tourism Principal Secretary Safina Kwekwe issued a notice allowing all traders to sell their wares at the waterfront.
Mombasa politicians led by Mvita MP Abdulswamad Nassir had piled pressure on the government to re-open the facility that had been closed down to contain the spread of Covid-19.
In a petition before Parliament, Nassir said traders had been left jobless for more than a year since the government instituted health protocols to stem the spread of Covid-19.
The MP also wants the Pirates beach re-opened.
"These traders have been affected by the closure. Let us consider them," Nassir said.
Yesterday, Kwekwe said the traders and the political leaders took issue with the government for subjecting them to untold suffering.
"At least four peak seasons have passed without us entering the premises to conduct businesses yet other locations like the Kongowea Wholesale Market have been open,'' Simon Mariga, the traders' spokesperson said.
Ali Noor Ali, the Mama Ngina Waterfront Park coordinator, said the traders will be allowed to conduct business at the facility but will be required to observe the Covid-19 health regulations.
"The general public and traders will be allowed in.
"The park is open from 6am to 8.30pm but we will make sure that Covid-19 protocols are observed,'' he said.
Ali called for calm among traders saying that the government had good intentions when it limited access to the place.
"This is primarily a tourist area for relaxation and not a marketplace. There are designated markets in the county," he said.
He insisted that they are keen on maintaining Mama Ngina Waterfront Park as a place for leisure and relaxation.
Mama Ngina Water Front Parks sits on 26 acres overlooking the Kilindini harbour channel. It was upgraded to a modern public recreational area with added amenities.
In 2019, the park hosted the Mashujaa Day celebrations.
The waterfront park has an amphitheatre, a cultural centre, a 2.1km long promenade and a space for food vendors.