Call for recognition of man who protected Jomo Kenyatta in Taita caves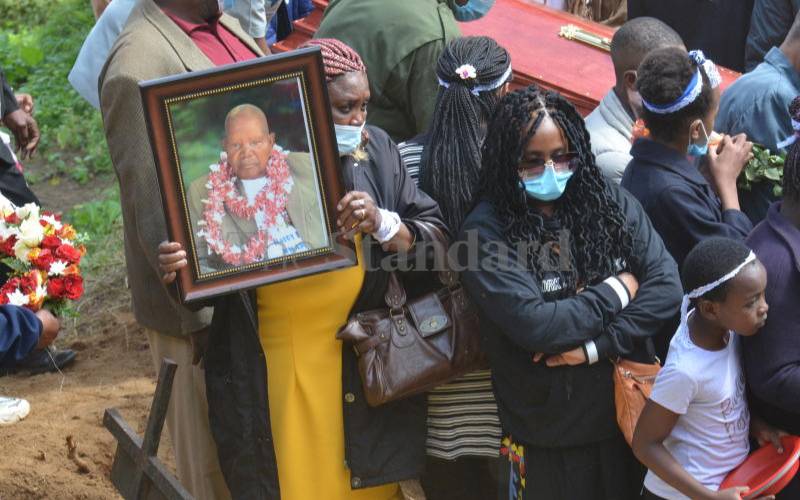 The curtain has fallen on a man who protected the founding President Mzee Jomo Kenyatta in Taita Taveta during the struggle for independence.
Herman Mwandighi, who was buried at his home in Wundayi, was eulogised by Taita Taveta political and religious leaders as a hero who should be celebrated for risking his life to protect Kenya's founder President.
Lushangonyi Catholic Church's Pascal Mwambi said Mwandighi protected Kenyatta at Kino caves in the outskirts of Wundanyi town.
He said it was unfortunate that he was later neglected by successive governments. "The soldier was not recognised by successive governments despite his immense contribution to the struggle for independence," said Fr Mwambi.
The cleric said the county and national governments should conserve cultural heritage and spectacular hills in Taita hills in remembrance of Mwandighi.
According to historical accounts, the Kino caves housed the famous Kapenguria six who included the Mzee Kenyatta, Bildad Kaggia, Kung'u Karumba, Fred Kubai, Paul Ngei, and Achieng' Oneko.
Jaramogi Oginga Odinga, Tom Mboya and Mbiyu Koinange also visited the site at the height of the struggle for Kenya's independence between the 1950s and 1960s.
The caves, popularly known as Kenyatta caves, are believed to have been one of the hideouts used by the President and other freedom fighters at the height of the struggle for independence.
"Kenya's independence was planned at the Taita Hills caves and locals who fought and participated in the struggle for freedom have not received much attention from successive governments despite the region having historical significance. Kenya's independence was planned here at the caves," said Charles Mlekenyi, a freedom fighter's son.
The leaders, among them Senator Johnes Mwaruma, Mwanda-Mgange MCA Anselm Mwadime and former Wundanyi MP Thomas Mwadeghu, accused the county and national governments of failing to recognise Kenya's independence heroes and heroines.
They said sons and daughters of the freedom fighters lived in abject poverty despite their fathers' immense contribution to the struggle for independence.
Mr Mwaruma, Mr Mwadime and Mr Mwadeghu, speaking at the deceased's Lushangonyi village home, described Mwandighi, who died aged 101, as an icon and freedom fighter who bravely and diligently defended his country.
"He was an icon and hero. Iconic places should be named after him. I will liaise with the county administration to ensure he is recognised," Mr Mwadime told mourners as he eulogised the fallen soldier.
Mwandighi, born in 1920 at Surinyi village, joined the armed forces in 1941. He was later taken to Abyssinia during the second World War to fight the Italians. He stayed in Ethiopia till 1945 and got promoted to the rank of sergeant.
Mwandighi later served in the African District Council before independence and hoisted the Kenyan flag in 1963 in Wundanyi town.
He was also the first Mwanda Councillor and Taita-Taveta District Kanu chairman for many years.
"Mwandighi was a political figure and a Kanu leader in Taita. Mzee Kenyatta called him 'the engineer' when he opened the Munuka coffee factory," his eulogy read in part.
Mwandighi was also credited for starting the Taita, Lualenyi, Kishsushe Cooperative Ranches, as well as the Munuka Coffee at Werugha trading centre.
In addition, Mwaruma and Mwadeghu described the man as a visionary leader who remembered and told everything he did.
"Mwandighi could talk almost all languages in Kenya and other countries he visited up to his old age," added Mwadeghu.