Taita Taveta MCAs seek to legalise traditional brews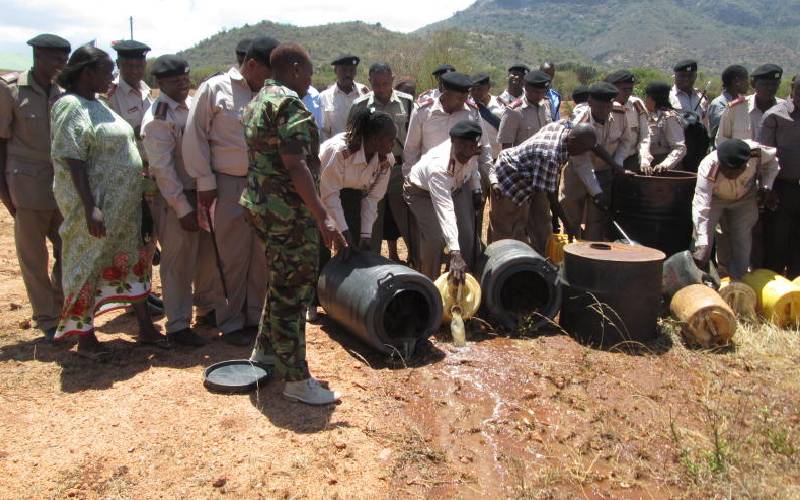 Drinking traditional brew without worrying about the police arresting you may soon be a reality in Taita Taveta County if the government prepares regulations to govern the trade.
From Mbangara to Changaa, Matingas, Nzoke and Mnazi, the regulations are to also safeguard how the alcoholic drinks are manufactured, branded and sold to the public.
The Assembly members have already passed a motion aimed at bringing the booming local brew business into the tax bracket and improve the county's local revenue base. If governor Granton Samboja's government draft's the regulations, brewers and traders are to be licensed at a fee that will bring to an end crackdown on illicit brews conducted by the police from time to time.
Traditional liquors such as Mbangara is popular among the Taita while Matingas, Chang'aa and Nzoke are commonly consumed by the Taveta. Mnazi or palm is popular across the Coast region.
The motion was sponsored by Nominated MCA Christopher Mwambingu who said the packaging will ensure the safety of traditional liquors which are part of the heritage and culture of the locals.
"Sub County Liquor Boards in conjunction with local Interior and Coordination officials have been conducting raids on illicit liquor joints in various parts of the county and arresting suspected brewers not forgetting the negative impact the illicit brews have on the social-economic development in the region. The illicit brews are part of our heritage and the county administration should safeguard," stated the motion seen by The Standard stated.
The motion received overwhelming support from the members who said the move will boost the county's revenue collection besides bringing sanity in the local brewing industry.
He said following the passing of the motion, the Department of Trade is now required to enable the establishment of local liquor brewing joints in every ward that will manufacture local liquor that is to be licensed as per the prescription of the First schedule of the Taita-Taveta County Alcoholic Drinks Control and Licensing Act.
"We fully support the county resolution to have local brews packaged. The brews are being manufactured using ingredients such as foodstuffs like sugar and pasha which are safe for human consumption," said Cicilia Ngina, a brewer in Voi town.
Leah Iminza who has been brewing some of the drinks added: "I have been selling the brews to feed and educate my children. The brews have helped me to make ends meet and I will fully support any move to improve on the brewing."