Five hurt as squatters and rival gang clash over land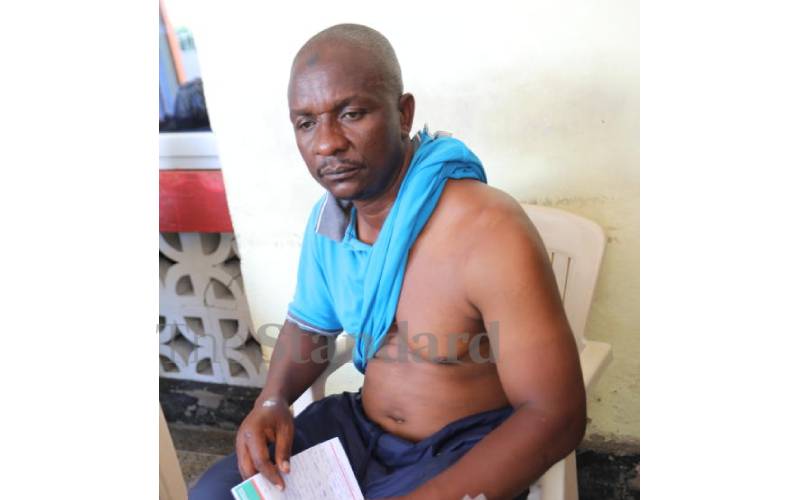 A clash between two rival gangs over the ownership of 100 acres in Rabai, Kilifi County left five people seriously injured.
The bloody conflict at the Nyika Reserve land on Sunday morning marks an escalation of alleged politically instigated land invasions and evictions that have hit parts of the Coast in recent days.
A witness said a gang of about 60 youths with machetes and other crude weapons invaded the land at about 10am and started to sub-divide it among themselves.
A rival of about 20 youths, also armed, confronted them, sparking a war that left the five with deep cuts on the head, hands and their backs.
"The 60 armed men came from Bamburi in Mombasa at about 10am and started to sub-divide the land among themselves," said Aman Weda, a brother of two of the injured men.
Weda said his brothers, Kalama Tsori and Katana Tsiro, were among the group of 10 men that have occupied the land for many years. It is the two and their group that confronted the new gang.
Ownership contested
Weda said several "professional squatters" have since March 14 tried to invade the land after the county government said it would finance its adjudication, survey and allocation to the squatters.
Kilifi County Commissioner Kutswa Olaka and Coast Regional Coordinator John Elungata's phones went unanswered, but Governor Amason Kingi decried increased cases of land conflicts in the county.
Ownership of most parcels of land in Kilifi, Kwale, Tana River, Lamu and Taita Taveta is contested between private developers and squatters. Although the squatters claim the land belonged to their ancestors and use old graves or trees as proof of ownership, others invade private land under the claim that leases have expired.
Kingi called for a stop to the evictions, saying the national government was working on two proposals aimed at ending the conflicts.
"That matter (evictions) has been brought before me and several meetings have been held to try and solve the squatter problem in the area," said Kingi.
In Kilifi, most parcels whose ownership are in dispute are in Malindi, Magharini, Kilifi North and Kilifi South where cases of land evictions and invasions have been reported.
Malindi MP Aisha Jumwa, however, blames the police for allegedly implementing court orders without considering the plight of the squatters being thrown out of their houses.
"We want the DCI to investigate how the police are providing security for people who are evicted from their homes especially during this rain season," she said last week when she visited squatters evicted from the Bakshweini land.
For the last five days there has been chaos in Malindi-Sala Gateroad after hundreds of squatters were evicted from a 360-acre farm owned by the Bakshweini family.
The famous Bakshweini family has been fighting to wade off squatters from their farm prompting them to sell off part of it.
Salim Bakshweini, the family spokesman, said their father bought the land in 1955 and the family has been carrying out farming activities on it before squatters invaded it.
On May 7, 2015, the family ceded 58 acres to the squatters but Bashweini said others have again started to invade the remaining part.
"The squatters were not satisfied and in 2006 they invaded the remaining part of the farm, slashed several animals, burnt buildings and tried to burn me inside my car," he said.
On Monday, National Land Commission (NLC) said emerging land conflicts at the Coast was a "security threat" and warned politicians against inciting people to invade private land.
"There are emerging conflicts between squatters and private land owners. We also have cases where squatters are fighting over public land," said NLC Commissioner Kazungu Kambi.
He said the fights over land schemes in Kilifi were because both the county and national governments have intensified the process to allocate them to the squatters.
"We intend to propose that a moratorium be introduced so that these squatters cannot sell the land once allocated. They sell and start to invade it, claiming it has been grabbed.
"Over 60,000 title deeds are uncollected in Kilifi alone. But President Uhuru Kenyatta is personally overseeing the process of buying huge tracts of land like that of Mazrui to resettle the squatters," said Kambi, adding that already an initial Sh600 million has been allocated for the exercise.
Other parcels that squatters have invaded are in Takaungi area of Kilifi South, where two private developers are on the verge of losing about 7,000 acres.
Last week, the Agriculture Development Authority said over 300,000 acres at Galana Kulalu in Tana River and Kilifi had been invaded and sub-divided by unknown people.
Other parcels invaded and where squatters are facing eviction include Kagaa, Kakanjuni, Malindi Salt and Kisiwani farms in Kilifi North and Malindi areas.
In Mombasa, according to the records from the NLC, several parcels in Kisauni and Nyali constituencies have also been invaded by squatters.
In Kisauni, 527 families are battling with the family of Gladys Njeri Kagiri for plot number 423 measuring 135 acres.
Ms Kagiri is said to have sold most of the land to various buyers and now remains with seven acres, but the squatters claim ancestral rights to the land.
In Taveta, 3,000 acres in Machungwani farm, AFC farm, Voi sisal estate is also known as Voi Point Limited, have been invaded.