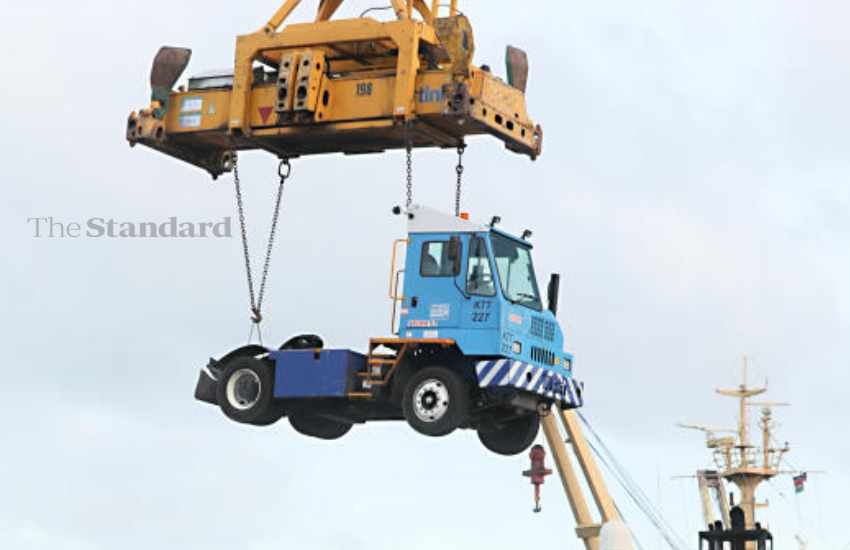 A boat carrying assorted equipment for cargo handling and navigation has left Mombasa for Lamu as the government races against time to operationalise the new port.
The shoal-draft flat-bottomed boat loaded with the first set of equipment to be used at the Lamu Port left Mombasa Port's berth number 20 to deliver the cargo as Kenya prepares to open the new facility's doors on June 15 this year.
Sailing along the Kenyan waters, the special barge belonging to Comarco, a marine transportation and engineering company, and towed by a ship Mv Comarco Swift, is expected to arrive in Lamu on Tuesday.
The same firm is expected to transfer a gigantic Rubber-Tyred Gantry Crane (RTGC) soon after making the first delivery.
Other crucial equipment required to start port operations will have been transferred to Lamu Port by May 20.
The hardware that left the port yesterday included four Kalmar terminal tractors, eight skeletal trailers, one 25- tonne forklift, one five-tonne forklift, two low bed trailers, two (20) spreaders and two (40) spreaders and one over- height spreader.
They were lifted and put on a Zanzibar registered purpose-built flat top barge C231 which will be towed by powerful tug boat christened Comarco Swift to the new port.
Last September, Comarco Shipping was contracted by the Kenya Ports Authority (KPA) to transfer four Rubber Tyred Gantry (RTG) cranes from one section of Mombasa Port to another.
The process required careful planning with the timing of the tides and ballasting of the barge for the RTGs to be transported safely to their new location.
Other equipment loaded on the 106 metre long barge that will be sailing at a speed of five knots also include lifting gears, one forklift boom attachments, three rail chains as well as four lateral mark channel buoys (navigational aid devices) each complete with 20 metres chain attachment.
KPA official Ernest Mbalanya who supervised the work, said that they executed the loading of equipment with precision to avoid damage and took consideration of adverse sea weather before sailing off.
He said they have drawn a detailed plan to ensure a safe voyage for both cargo and crew who will be transporting the gears.
"This forms the initial phase of transporting equipment that is critical in cargo handling to the new Lamu Port. We shall be carrying out a second shipment that will involve the bigger cranes that are used in loading and offloading from ships on May 5," he said.
The loaded cargo was sea fastened overnight to secure it before sailing.
"We have great teamwork between KPA personnel and those from Comarco Shipping and we hope to make this voyage successful," Mr Mbalanya said.
KPA head of corporate affairs Mr Bernard Osero said Lamu Port would supplement Mombasa once operational and would accommodate bigger vessels and hence a game-changer.
He said some staff members will be transferred to Lamu once the new port starts operations.
"We are taking all necessary measures to start operations at the Lamu Port. Experienced staff will be transferred to Lamu to operate the equipment," he said.
The government has so far built the first three berths at the Lamu Port at a cost of more than Sh40 billion. Each berth measures 400 metres and can accommodate the longest ship in the world.
The berths were constructed by China Communication Construction Company (CCC).