Governor Kingi revives plans to unveil coalition of Coast-based political parties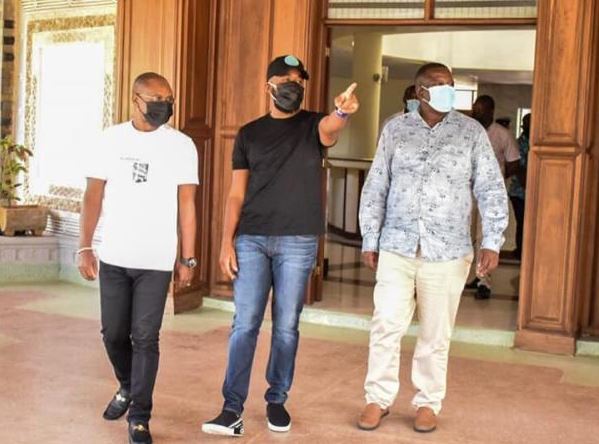 The plans to form a Coast party are back on track after Kilifi Governor Amason Kingi held a meeting with representatives of regional political outfits.
During the Thursday meeting whose agenda was the formation of a coalition, the governor held talks with members from Kadu Asili, Shirikisho Party of Kenya, Umoja Summit Party of Kenya and Republican Congress of Kenya.
The meeting came days after Kingi held a meeting with governors Hassan Joho (Mombasa) and Salim Mvurya (Kwale).
Kingi has renewed the drive to set up a regional party after he recently joined his two fellow governors in a meeting with President Uhuru Kenyatta at State House, Nairobi.
The governor looks to be driven by fresh purpose three weeks after ODM party leader Raila Odinga advised him to abandon plans for a Coast 'super-party' and instead conduct his politics under the umbrella of the Orange party that has a nationwide presence.
Our sources said Kingi is scheduled to meet with local MPs tomorrow at an undisclosed location to chart the region's political future.
But a few legislators who requested not to be named said they were skeptical of the coalition plan, describing it as a 'political gamble'.
Yesterday, Kadu Asili Secretary General Jimmy Ngala and chairman Joshua Kombora confirmed that the meeting took place and said they were scheduled to go on a retreat next week "that will help speed up the process of forming the coalition".
"We are currently fine-tuning the coalition agreement document. The document is on the table and hence the process is on course. We hope the coalition will be unveiled in the next two months or so," Mr Kombora said.
Mr Ngala said Kadu Asili 'fully supports' formation of the coalition that is expected to help them achieve unity of the Coast region.
"We have had fruitful meetings as Coast-based parties and governor Kingi has been coordinating the process," he said.
Separately, Umoja Support Party chairman Matano Chengo dismissed claims that they have already come up with a name of the alliance.
"Those coming up with names of the coalition are malicious. We will soon make the name public," he said, adding that he hoped Joho and Mvurya would join the coalition once it is unveiled.
Kwale Woman Representative Zulekha Hassan recently claimed that Kingi was pushing for the formation of a coalition called Tufe.
Shirikisho is represented by former Cabinet minister Morris Dzoro while Ibrahim Khamis has been the face of the Republican Congress party, which is associated with Tourism Cabinet Secretary Najib Balala.