Makonde initiates 15 girls amid controversy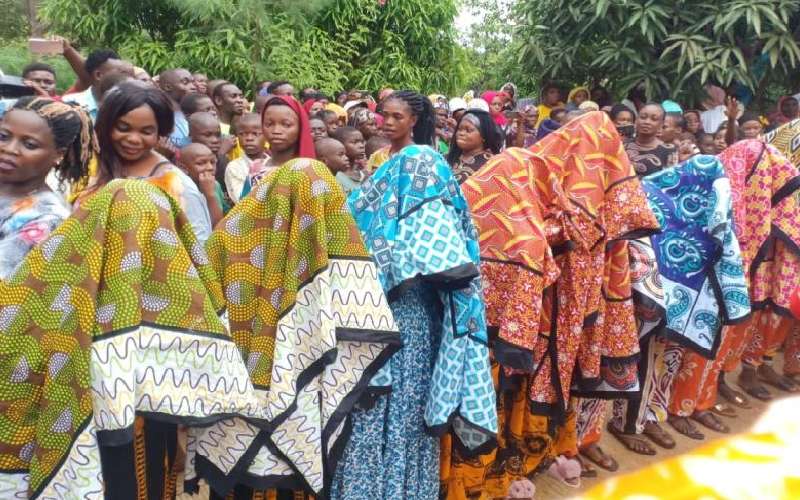 A village in Msambweni, Kwale County, came to life on Sunday as the Makonde community celebrated a century-old rite of passage for girls.
People feasted and danced at Tangulia village in Mwabungo as the 15 Makonde community girls, aged between 10 and 14 years, marked the end of 'unyago', a training session that prepares them for adolescence and motherhood.
The ritual has however attracted controversy with some residents blaming it for teenage pregnancies and marriages among Makonde and Digo girls.
Girls are said to drop out of school to get married or on getting pregnant after learning about sex.
The girls, according to organisers of the event, went through a month-long intensive training on marriage and how to treat men.
On Sunday, elders said all girls must go through the training failure to which, they may be looked at as outcasts and may even be banished from the community.
During the training, each girl is assigned a female traditional marriage counsellor referred to as 'kungwi', whose role is to teach her how to behave before adults, particularly males - fathers and husbands.
Makuta Lipwapwai said the 15 girls were secluded in one of the houses of Makonde community chair Thomas Nguli.
"They were taught on how to live in harmony with fathers and husbands to ensure successful marriages," said 80-year-old Lipwapwai.
"They have gone through my hands. I spent time with the girls, teaching them manners. I taught them to respect their fathers, brothers and future husbands."
They are also taught songs and dances. The girls are taught about a woman's duties in a home, marriage and sex.
During this period, the girls cannot interact with any males.
The trainers, Lipwapwai, Rose Boniface and Elizabeth Linya denied claims that the girls are encouraged to engage in sex or are taken through lessons that encourage them to get pregnant as some critics have claimed.
"This is a moment when the girls are taught to be careful when around boys and men in general, to avoid teenage pregnancies.
"Our culture recognises the importance of enabling girls to access education and therefore we don't push them into early marriage. We only teach the manners," Linya said.
"That is why the initiation was completed in time for the girls to return to class as schools re-opened on Monday. The ceremony is important in our community because no girl wants to be isolated in adult life for skipping the initiation ceremony."
Critics say the unyago training has sexual content and girls are taught what a woman should do to satisfy a man sexually. It is believed the lessons on sex have caused adolescent girls to engage in sexual relationships to experiment on what they have learnt.
Elders of the Makonde group, which arrived at the Kenyan Coast in the 1930s from Mozambique and became citizens in 2017, said their culture is a very important part of their lives.
"Many bad things are being said about our culture and particularly our annual initiation ceremony for girls. However, I want to tell that all these are false," Nguli said.