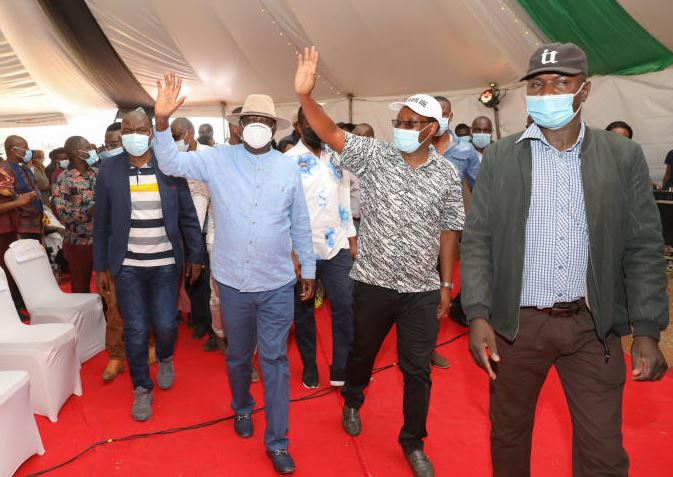 Following the green light for pending by-elections, battle lines have been drawn between ODM leader Raila Odinga and Deputy President William Ruto in three electoral areas in Kwale, Kilifi and Taita Taveta counties.
The two rivals have held cyclic rallies and political activities in Coast in the last three weeks.
They are set to renew their rivalry as they lead their troops in Msambweni parliamentary by-election and repeat polls in Dabaso and Mbale wards in Kilifi and Taita Taveta, respectively.
Read More
Ruto will also confront Mombasa Governor Hassan Ali Joho, pointman for ODM party leader who will coordinate the Msambweni constituency and Dabaso Ward by-elections.
Joho and Taita Taveta Governor Granton Samboja will also play lead roles in the Mbale Ward by-election where Ruto is expected to field candidates through proxies.
Proxy candidate
Early this year, Jubilee chair Nelson Dzuya suggested the party might not field a candidate for the Msambweni poll but reports indicate the DP will either have a candidate in the same manner he pushed for MacDonald Mariga in Kibra or field a candidate by proxy the way he did in Ganda Ward in Kilifi last October.
While Ruto held political meetings in Mombasa County, Raila arrived at the Coast days later for campaigns in Taita Taveta, Mombasa and Msambweni in Kwale where he met supporters and opinion leaders.
There is already anxiety in Msambweni after the Independent Electoral and Boundaries Commission (IEBC) informed political parties that pending by-elections in the country would be held on December 15, this year.
This offered relief to aspirants who have been on the campaign trail since early this year, amid the restrictions brought about by the Covid-19 pandemic which also delayed the announcement of the election date.
"We have informed political parties of the December 15 date for the by-elections. We expect the date to be published in the Kenya Gazette probably tomorrow (today) when it will become official," said Coast regional IEBC coordinator Amina Soud yesterday.
The Msambweni by-election was occasioned by the death of MP Suleiman Dori of ODM on March 9, this year, but a poll to replace him was suspended following the Covid-19-related restrictions.
Several candidates have lined up to succeed the late Dori, with eyes trained on the nominations.
ODM hopefuls in the Msambweni by-election so far are former Bongwe/Gombato MCA Omar Boga, Kwale branch co-chair Nicholas Zani, Dori's kin Feisal Bader, Ali Mwakulonda and Sharlet Akinyi.
Those who have been associated with Jubilee but who are said to be looking for tickets from other parties are Kwale County Executive for finance and planning Bakari Sebe and Kenya National Union of Teachers Msambweni branch executive secretary Bashir Kilalo.
Boga, who came second in the 2017 race with about 11,000 votes, yesterday said he was waiting for guidelines from IEBC before launching his campaign.
Boga was among political leaders who met Raila in Msambweni and yesterday he said he was a supporter of the Building Bridges Initiative in Kwale County.
Contacted for comment yesterday, Sebe said: "I am unwell but will give a comprehensive statement on the forthcoming by-election in the coming days."
When he toured Kwale County recently, Jubilee Party national chair Nelson Dzuya said the ruling party had no candidate for Msambweni yet and that a decision could only be taken by the National Executive Committee.
Apart from Msambweni, the other by-elections that were postponed are Dabaso Ward in Kilifi County, Kisumu North Ward in Kisumu County, Kahawa Wendani Ward in Kiambu County and Wundanyi/Mbale Ward in Taita Taveta. The Dabaso by-election in Malindi was scheduled for April 29.
Kadu Asili national chair Kombora Korokoro yesterday said the party will field a candidate in Msambweni and in most of the wards.
Pwani university lecturer and Msambweni resident Halim Shauri noted that the hottest race may be witnessed during primaries when aspirants seek the tickets of popular political parties in the area.
Hassan Mwakimako, another university lecturer, observed that choice of parties by aspirants and popularity of new entrants would have a bearing on outcome of poll.
"The contest is likely to be between the two major political parties, particularly the Raila Odinga and William Ruto sides in the by-election. It will be politics of the handshake although new entrants may complicate the race," Prof Mwakimako observed.
In October, last year, Raila and Ruto faced off in by-election for Ganda Ward in Malindi, Kilifi, where the ODM leader campaigned for eventual winner Reuben Katana while Ruto supported Abdulrahman Omar on an independent ticket after he teamed up with Malindi MP Aisha Jumwa.
Campaign messages
Most of the hopefuls have fashioned their campaign messages to promote cohesion and integrity in the cosmopolitan constituency, education, women and youth empowerment, tourism, fishing, farming and agribusiness as well as uplifting talent and culture.
Msambweni constituency comprises Gombato Bongwe, Ukunda, Kinondo and Ramisi wards. The constituency had 68,621 registered voters during the 2017 General Election.