Police in Kwale gun down terror suspect in dawn house raid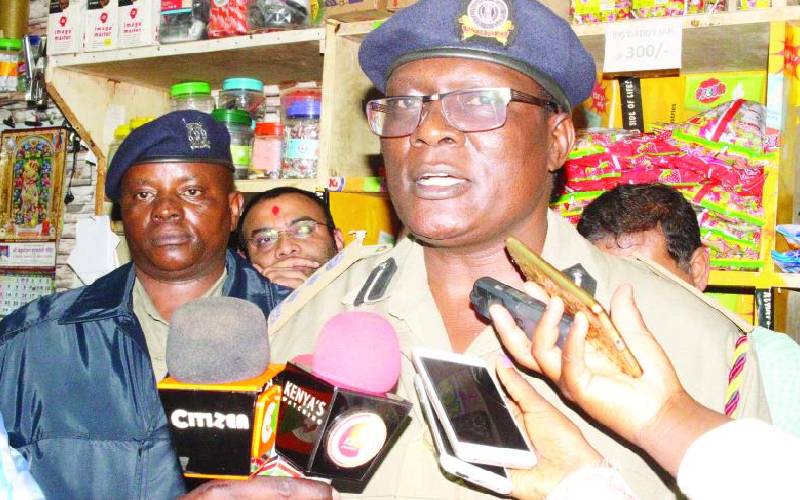 Anti-terrorism police yesterday shot dead a suspected Al Shabaab terrorist in Kwale County and recovered an assortment of weapons.
The suspect, identified as Juma Mwengo, was killed inside a house in Gazore village in Tiribe during a dawn ambush that saw his accomplice escape a police dragnet.
Matuga police boss Francis Nguli (pictured) said yesterday the suspect was being sought over terror-related and other criminal activities.
Police identified the suspect who escaped as Kassim Nasoro Shauti.
A police statement said the ambush was part of a "proactive counterterrorism operation".
Mr Nguli said officers from Nairobi had been tracking down the suspects with the help of intelligence officials. They stormed the house the suspects were hiding in and opened fire on them when they (suspects) turned violent.
"The officers ordered the suspects to surrender but they instead defied the orders and one of them drew a machete in an attempt to attack the officers. He was fatally shot but the other one escaped," he said.
Five machetes with labels in white ink written "Kafiri" and a black flag with Arabic writings similar to those used by Al Shabaab terror group were recovered from the house.
Nguli said the suspects had been recruiting terror gangs in Kwale and neighbouring Mombasa County, adding that intelligence reports had warned that the suspects were plotting an attack on non-locals and government installations.
Police said the man they shot dead escaped a raid conducted in Likoni's Shikaadabu area in early 2017. Three military smoke jackets, two grenades, 10 bullets and binoculars were recovered during the raid.
Police said in a statement that the suspect had also escaped a raid in Dudus during which three terror gang members were killed last year. Police have launched a manhunt for the other suspect.