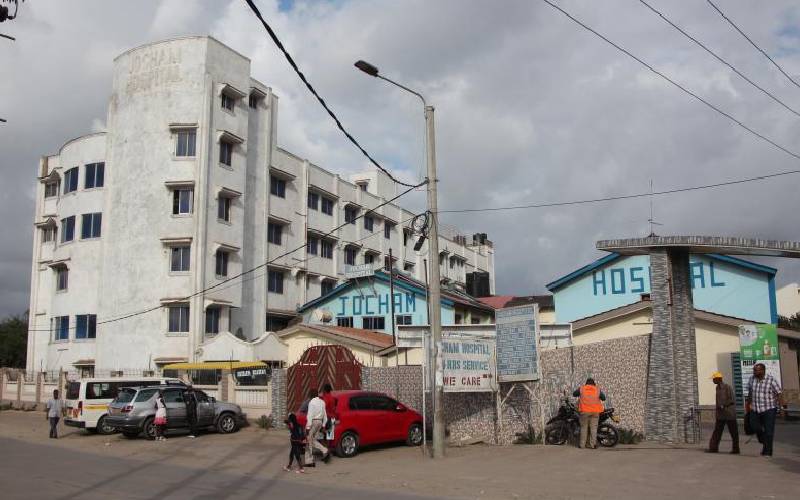 A family in Mombasa is at pains after a private hospital refused to release the body of their loved one over Sh8.3 million bill.
David Ngari died on July 27 after he was admitted to Jocham Hospital's Intensive Care Unit for 67 days.
Ngari's family said yesterday it has paid Sh3.7 million and offered a land tittle deed as security to secure release of the body.
The widow of the retired Prisons officer, Agneta Zighe, said the title deed was of a piece of land owned by the deceased, but the hospital said the document cannot be used as security.
On Wednesday, Ngari's kin stormed out of a meeting with the hospital management after they failed to come up with a payment plan. The family accused the hospital of refusing to accept the title deed as earlier agreed.
But the hospital's director, Jackie Chamia, said the tittle deed of an ancestral land could not be used as security.
"We have no payment plan from the family or any other security. Some of the equipment we used on the late like dialysis machine and ventilator cannot be used again because of the condition he was in. We feel for the family, but we also have costs to pay," she said.
Chamia added: "We had a meeting with the family but it turned chaotic and we could not proceed. I have not seen the second title deed. If they wish they can give the title to the lawyers."
The director explained that Ngari was referred to the hospital by a private clinic in Diani, Kwale County.
"I've had several meetings with the family. When the bill exceeded the insurance cover we agreed to transfer him to a public hospital but because he required specialised treatment, no public facility was willing to take him in," said Chamia.
Zighe explained that they first presented the title deed of the deceased's father, but it was rejected over succession issues.
"On Wednesday, we tried to use the title deed of our cousin, which was recently used to secure the release of a patient at a Mombasa hospital, but it was also rejected," she said.
Kenya Union of Post Primary Education Teachers executive officer Lynette Kamadi said Minet insurance, which covers teachers, paid Sh1.6 million while the Teachers Services Commission gave Sh1.85 million ex-gratia. Zighe is a teacher.
But Chamia claimed she has not seen the second title deed, adding that the matter has been complicated after the family took to social media and involved lawyers.