Scores injured as ferries collide on Likoni channel sparking sinking fears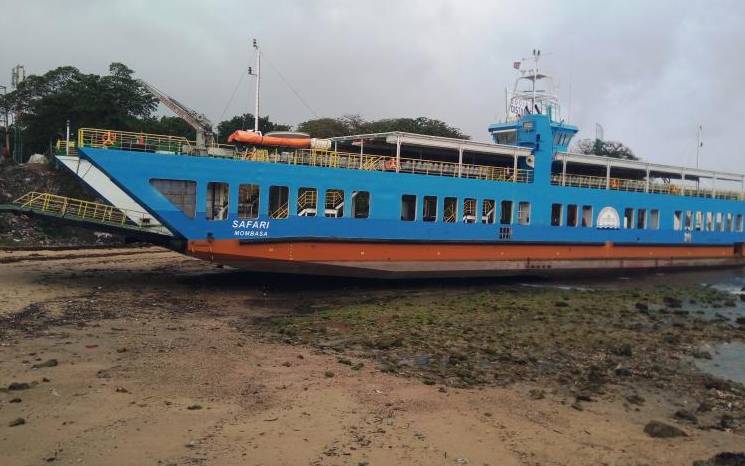 Efforts to save the MV Safari ferry from sinking after it collided with another vessel were ongoing late yesterday as authorities announced 25 people were injured in the accident.
The collision occurred after the Sh2 billion ferry, which has been in operation for only two months, was rammed by a smaller ferry on the Likoni Channel on Tuesday.
MV Safari took in a lot of water after the Tuesday evening accident, and salvage teams spent the night trying to siphon it out to prevent the vessel from sinking.
It was tugged towards the shore during high tide, but by yesterday, it was still hanging precariously on mud as the Indian Ocean retreated during the low tide.
The ferry, which was bought from Turkey, was unveiled in April after a four-year legal battle over its procurement. It sailed into Mombasa and was soon after involved in an accident on May 11 when it was rammed by MV Kwale on the side.
The hole created was sealed, but Tuesday's incident caused more damage. MV Safari was preparing to sail from the southern mainland to Mombasa island when it was struck by MV Kwale while still anchored on the ramp.
Reports indicate MV Kwale developed mechanical problems that affected its steering capabilities as it left the island, causing it to drift headlong into MV Safari.
The impact created a huge hole in MV Safari and caused a stampede as passengers panicked and ran back to the mainland while water gushed in. Several people were injured and all vehicles evacuated.
"Today at 1530 hours, MV Kwale, while at the mainland ramp, hit MV Safari, gaping a hole on the side which has caused water ingress, flooding the engine room. The vessel has been assisted by KPA Tug Simba to get to a safety position," said Kenya Ferry Services Managing Director Bakari Gowa on Tuesday.
Rescue teams treated several people who were injured on site and evacuated others to Coast General Hospital. Most had soft tissue injuries and joint damages.
First aid
Mombasa County Red Cross co-ordinator Mohammed Rajab told The Standard yesterday that victims were given first aid at the scene before being rushed to the hospital.
"We have 25 victims, 17 are men and eight are women. They had injuries on various parts of the body," he said.
Kenya Coast Guard security officials, who had been deployed to the channel after the Covid-19 outbreak, evacuated the passengers first before allowing vehicle owners to disembark.
Ferry Police Commander Joseph Chebii said 23 people were treated at Coast General Hospital.
Meanwhile, the MV Safari coxswain reportedly alerted security officials of impending danger after he noticed from CCTV videos that water had started gushing in and could cause the vessel to sink. The initial evacuation lasted 40 minutes as passengers hurriedly disembarked.