Sign post destroyed in Makueni-Taita Taveta border dispute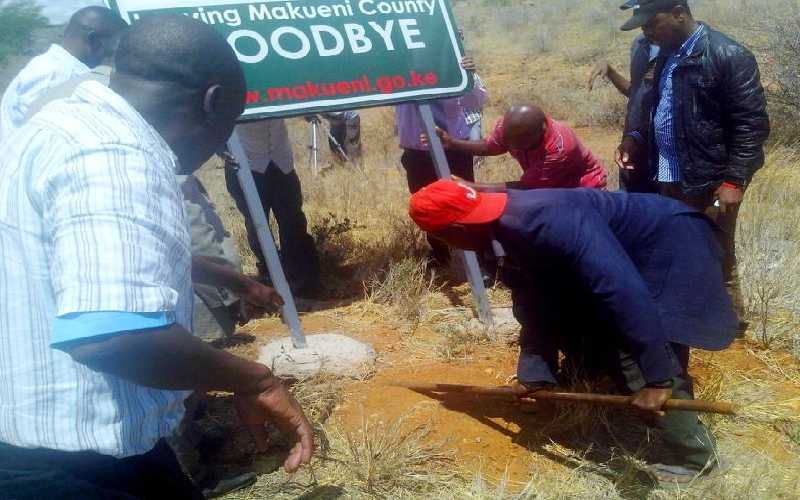 The long-standing boundary dispute in the two counties has escalated after Taita Taveta County administration pulled down the sign post erected by Makueni County.
Makueni County insists the boundary between the two counties lies at the Tsavo River while Taita Taveta County maintains that it is at Mtito Andei River.
Last week, Lands Executive Mwandawiro Mghanga led the county's law enforcement officers and pulled down the sign post at Tsavo River.
In retaliation, several Makueni MCAs raided the Tsavo River accompanied by a group of youths and re-erected the sign post.
"Destruction of the sign post by Taita Taveta County leaders is provocation," said an MCA.
But Mr Mghanga claimed they pulled down the sign post because Makueni County had been collecting revenue at Mtito Andei town illegally.
He said he had met representatives of the communities of Mtito Andei West, who called on Taita Taveta County Government to urgently establish its presence at the town.
"We even identified a house that the government can hire immediately as a revenue office," he said.
Mghanga had been summoned by the county assembly to give an update on the boundary dispute between Taita Taveta, Makueni and Kwale counties at Mtito Andei and Mackinnon Townships on the busy Nairobi-Mombasa highway.
Yesterday, he informed the house that Mtito Andei residents were already resisting paying taxes to Makueni County, claiming it does not provide them with services. He said hotels in Tsavo West used to pay taxes to the county government