Covid-19: Police intercept trucks, arrest driver and torch miraa in Tana River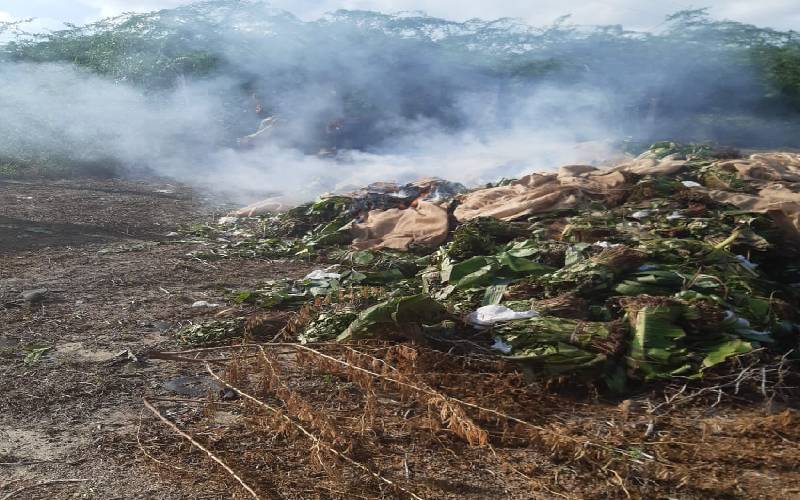 A truck driver was on Tuesday arrested after being intercepted ferrying miraa from Meru to Lamu county despite a directive banning the same in the wake of the coronavirus pandemic.
Police and Tana River county officials intercepted the trucks which were transporting the miraa, arrested the driver before torching the miraa as members of the public watched.
The driver was seized at the Madogo junction on Mwingi to Garissa Road after reportedly sneaking into no gone zone for miraa through Madogo following a tip-off from members of the public.
Police also seized a pickup loaded with the miraa heading to Lamu from Mombasa at Minjila in Garsen township before burning the miraa.
The move follows a one-month ban imposed for the sale, chewing and transportation of miraa within Tana River county by Governor Dhadho Godhana to curb the spread of coronavirus last week.
Ward administrator Guyato Dhidha confirmed the burning of the miraa after the owners escaped.
"We burnt it down after owners escaped and left it, because members of the public could have chewed it," she said on telephone.
But Tana Delta police boss Edwin Ogwira said the police did not burn the miraa saying that was county government by-laws.
"They are in the best place to answer your question because we are working under the national government," he said.
Residents have expressed fear that Tana River county will be among hot spot of the disease if the businessmen continue defying the county directive.
Governor Godhana also banned public service vehicles from entering the county from other regions to contain the spread of the disease.