No end to locust threat, says State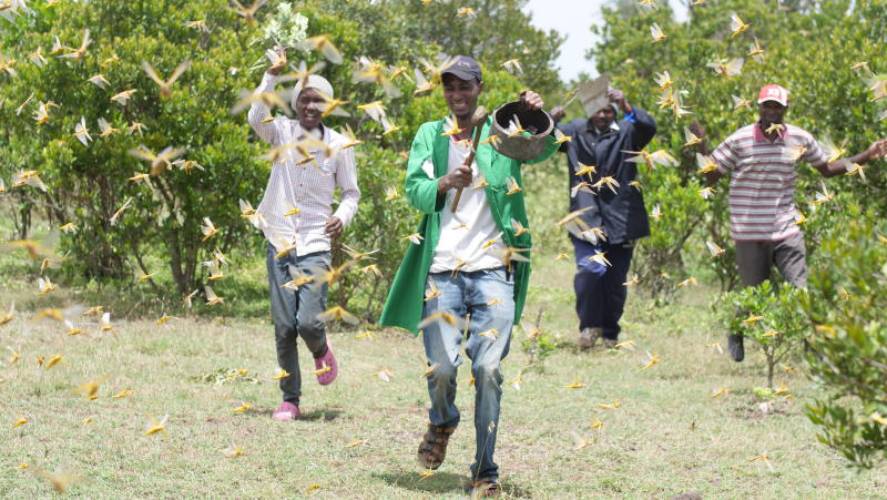 It will take at least two months to check the spread of desert locusts in counties they have invaded, the government has said.
Speaking in Isiolo yesterday, Kello Harsama, the Administration Secretary at the Crop Production Department in the Ministry of Agriculture, said at least 17 counties remained badly affected by the pests.
Mr Harsama revealed that 10 counties, including Mandera, Wajir and Kitui, had reported notable progress in dealing with the locusts.
Among the counties that remain affected by the pests is Tana River. According to officials from the county agriculture department, close to 3,000 farmers have incurred losses due to the latest invasion.
Tana River County Executive for Agriculture Mwanajuma Hiribae said the farmers who had been affected came from 35 villages spread in Bangale, Madogo, Hirimani, Chewele and Sala wards.
"The swarms move in a very confusing manner. It is hard to track them. For now, we have mapped three breeding spots where county officers are spraying to minimise their multiplication," said Ms Hiribae.
Sammy Komora, one of the affected farmers, said the swarms ate anything on sight and that efforts to scare them had proved futile.
"The hunger and famine that could be brought by these locusts is unimaginable. We urge the government to intervene," said Mr Komora.
He added that he, and a number of other farmers, had leased land from the Bura irrigation scheme, which is controlled by the National Irrigation Board, and might, therefore, not recoup their investment.
"We have leased land, bought seeds and fertiliser and even procured labour. All this will go to waste and we will be left with debts," Komora said. In February, a locust invasion left a trail of destruction on 200 acres of land under crop. Mwanajuma said despite the county adopting pest control measures, the locusts had mostly created colonies in the productive villages of Cherwell and Darime, destroying vegetables.
She said some of the control measures adopted were the purchase of a motorised sprayer and the training of agriculture officers.
Laikipia invasion
Elsewhere in Laikipia County, residents of Lariak, Marmanet and Rumuruti were yesterday shocked to find swarms of locusts in their farms.
The locusts are said to have migrated from the nearby Nakuru County. They have mainly invaded maize and wheat farms. "We did not expect that the pests could have migrated to this area. We have never witnessed such a sight before," said John Kinyua, a farmer.
Mr Kinyua called on the national and county governments to urgently contain the pests before they spread to other agricultural areas.
Already, Laikipia, Samburu and Isiolo counties have formed a joint team to conduct aerial spraying of the pests.