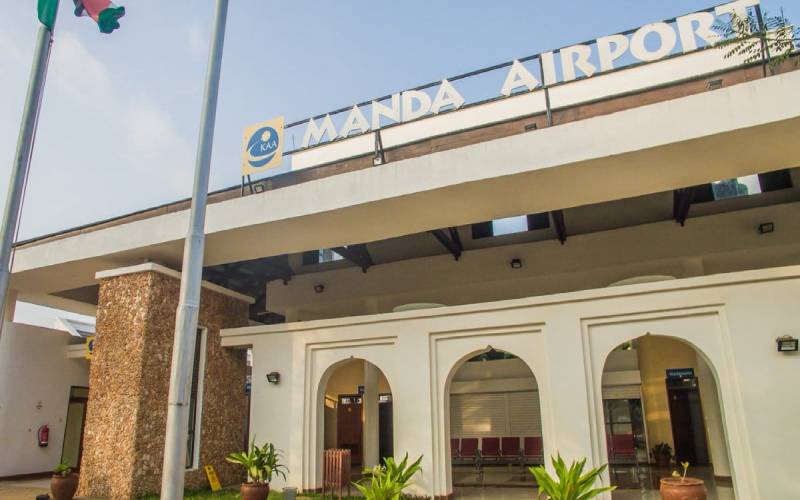 The Manda Airstrip (Pictured) in Lamu is now open. It was temporary closed early Sunday following a dawn Al-Shabaab attack. The Kenya Civil Aviation Authority (KCAA) Director General Captain Gilbert Kibe announced lifting of the closure, saying normalcy was being restored.
SEE ALSO: KDF probes aircraft crash in Somalia after 10 soldiers injured
"KCAA wishes to notify aviation stakeholders and members of the public that the temporary closure of Lamu Civilian Airstrip operated by Kenya Airports Authority (KAA) has been lifted allowing for normal operations to resume," he said in a statement to newsrooms. US Africa Command (US Africom), an agency responsible for military relations in Africa, affirmed KCAA's statement, noting that the airstrip was cleared and they were in the process of securing it fully with the help of the Kenya Defence Forces. Airlines that operated from the airstrip, in their notice to customers, did not say when they would resume operations. "Please note that Manda Airport Lamu – Lamu has been closed until further notice. All flights to and from Lamu are hereby cancelled," said Fly540. Department of Defence (DoD) spokesman Col. Paul Njuguna said that the terrorist attempted to use the airstrip to take control of the military base jointly used by the Kenya and US forces.
SEE ALSO: Cuba lauds Kenya's bid on missing doctors
US forces use the military base to provide training and counter-terrorism support to East African countries. The Kenya Defence Forces alongside the US Africa Command successfully repelled the Jihadist militants. The Al-Qaida linked Jihadist group issued several press statements in which claimed to have the base in control but the US Africom has dismissed their claims as a mere exaggeration of the security situation on the ground. "Al-Shabaab resorts to lies, coercion and extortion of force to bolster their reputation to create false headlines. It is important to counter them where they stand to prevent the spread of this cancer," said US Army Major General William Gayler. US Africom added there was an assessment of the damage of equipment as a result of the attack and they will provide an update on the same.
SEE ALSO: Kenya Army chopper crashes in Masinga killing two soldiers
A security source told The Standard two light aircraft and two US army choppers were destroyed during the attack. Col. Njuguna said that four Al-Shabaab militants were killed and five suspects in relation with the attacks have so far been arrested. US Africom, however, cautioned that the security situation in Manda Bay was fluid.