Kwale County puts up Sh300m Teacher Training College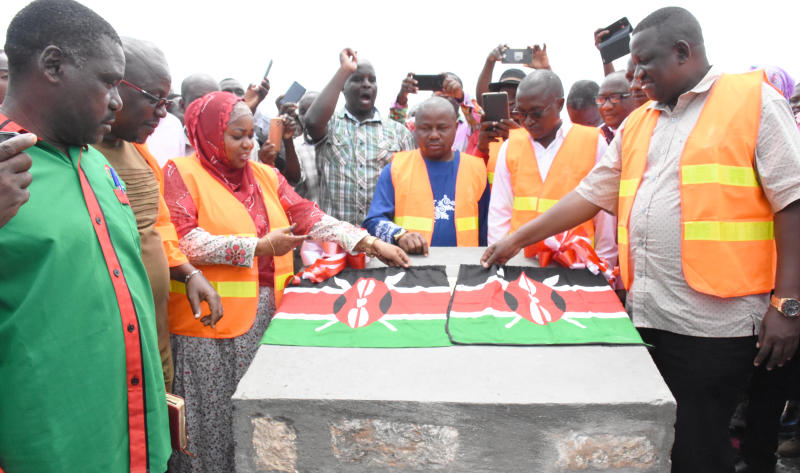 A Sh300 million teachers training college will be constructed in Kwale County to train P1 and Early Childhood Development and Education (ECDE) courses.
It will be the second public teachers training college (TTC) in Coast after Shanzu in Mombasa. The other TTC in Bura is owned by the Catholic Church.
Addressing the gathering after laying a foundation stone and unveiling a plaque to mark the occasion, Kwale Governor Salim Mvurya described the college as historical and one that will change the narrative not only in Kwale County, but the Coast region in general.
The governor, who was accompanied by his deputy Fatuma Achani, MCAs and County Executive Committee Members, also distributed a total of Sh77.1 million.
This included Sh42.1 million bursary fees to 929 national schools county-sponsored students from Kinango Sub-county and Sh35 million to farmers under the National Agricultural and Rural Inclusive Growth Project.
Mr Mvurya said the Elimu Ni Sasa initiative, which he started in 2013, had been transformative in the seven years it has existed.
"We started with only 250 national school students in 2013. Today, we are boasting of 4,800 students fully sponsored for four years in national schools and 2,000 in universities. There are more than 40,000 others given normal bursaries and we pay Sh15,000 for every student joining youth polytechnics," he said.
The governor expressed satisfaction that his government had delivered on its promises, saying apart from the Sh400 million annual bursaries, roads had been tarmacked, some with the cooperation of the national government.
"The Samburu-Kinango-Kwale road tarmac project is ongoing, while the Kanana-Shimoni, Lunga Lunga-Vanga roads have been tarmacked. The Dongo-Kundu bypass project is on, there is Shimoni port coming up and there is the Kombani Fresh produce wholesale market project that is ongoing. There is also the Shimba Hills fruit processing plant about to start," he said.
Ukunda Airstrip has been re-named Diani Airport with its expansion in the pipeline while numerous health centres and hospitals, including the Msambweni Referral Hospital with more than 100 maternity beds, have been set up, he added.
A total of 400 ECDs have been built, 773 ECD teachers employed on permanent terms, said the governor, adding that 100 more ECDs will be built this financial year and an additional 150 teachers employed.
"We are doing all this because we promised to transform the lives of Kwale people when we sought votes from you in 2013 and again in 2017," he said.
Mvurya urged residents to shun leaders promoting tribalism, saying this will destroy the gains made and it was not a qualification for leadership. Politicians seeking offices should sell agendas and manifestos to the people, not brandish the carrot of tribalism.
Ms Achani on her part praised Mvurya's leadership, which she said was focused on the people's transformative agenda. She urged residents to support the governor and adhere to his advice because he was the spokesperson of the county.
"Whoever is opposing Governor Mvurya is the witch of Kwale County because he is opposing development. Let us all rally behind the governor in order to get more development from his excellent leadership," she said, adding that those leaders undermining the governor were bound to fail.
Achani led an impromptu funds drive for 10 students who had scored grade A and A- in their final exams. Some Sh30,000 was raised.
Vandals cause water shortage
Water trucks have been moving from one estate to another while vendors in carts have hiked the price of the commodity from Sh20 per jerrican to Sh50.