Tourism players salute Balala over new UNWTO role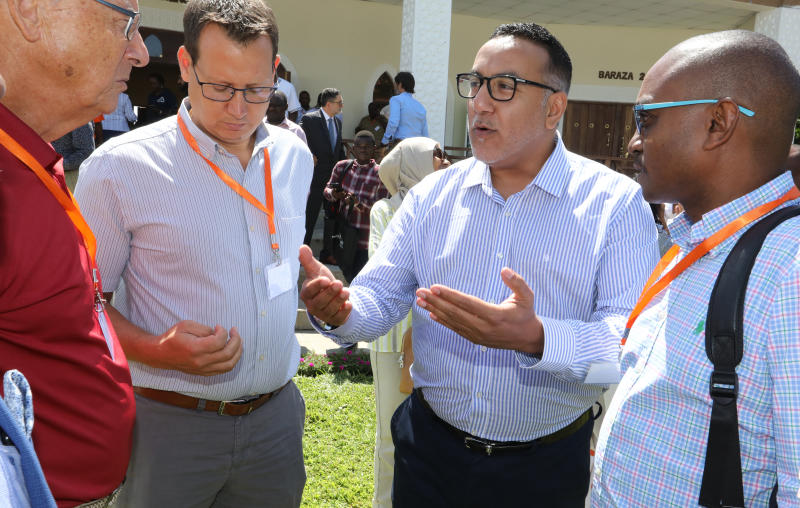 Tourism stakeholders have heaped praise on Tourism and Wildlife Cabinet Secretary,Mr Najib Balala following his election to chair the United Nations World Tourism Organisation (UNWTO) executive council.
Balala was elected last Friday during the UNWTO General Assembly in Saint Petersburg, Russia.
''We wish to congratulate Minister Balala for this very noble achievement. This outstanding achievement will not only place Kenya and Africa on the global map but is also a true testament to Kenya as a significant tourism hub,'' Mr Bobby Kamani, Managing Director of Diani Reef Beach Resort & Spa said.
Kamani, a member of the Coast Tourism Working Group said that he was personally privileged to work closely with the CS in both the Coast Tourism Working Group Private Sector.
'' I have confidence that Balala will do justice to his deservedly new role and as always will deliver beyond expectations,'' Kamani said.
Mr Edward Wangeci ,General Manager of Naro Moru River Lodge said that Balala's elevatiion to the coverted post was a welcome relief to Kenya's tourism industry which is on an upward trajectory.
''It is a win for Kenya and Africa. Balala has been at the forefront in agitating for intra- Africa tourism trade and we hope he will use his position to champion for closer tourism collaboration in the entire globe,'' Wangechi said.
Also to congratulate Balala was the African Tourism Board chairman Cuthbert Ncube.
"The African Tourism Board congratulates the Kenyan minister, Mr Najib Balala onhis election to lead the UNWTO Executive Council,'' Ncube said.
Ncube added that the latest development is an important achievement not only for him but for Africa and its vibrant travel and tourism industry.
He said that it shows the importance and richness of Africa as a driver in the global travel and tourism industry.
''We are looking forward to working with Kenya as an important leader in improving our Communities through Sustainable Tourism,'' Ncube explained.
The UNWTO's Executive Council's task is to take all necessary measures, in consultation with ‎the Secretary-General, for the implementation of its own decisions and ‎recommendations of the Assembly and report thereon to the Assembly.‎
The Council meets at least twice a year.‎
‎
‎The Council consists of Full Members elected by the Assembly in the proportion of ‎one Member for every five Full Members, in accordance with the Rules of Procedure ‎laid down by the Assembly with a view to achieving fair and equitable geographical ‎distribution.‎