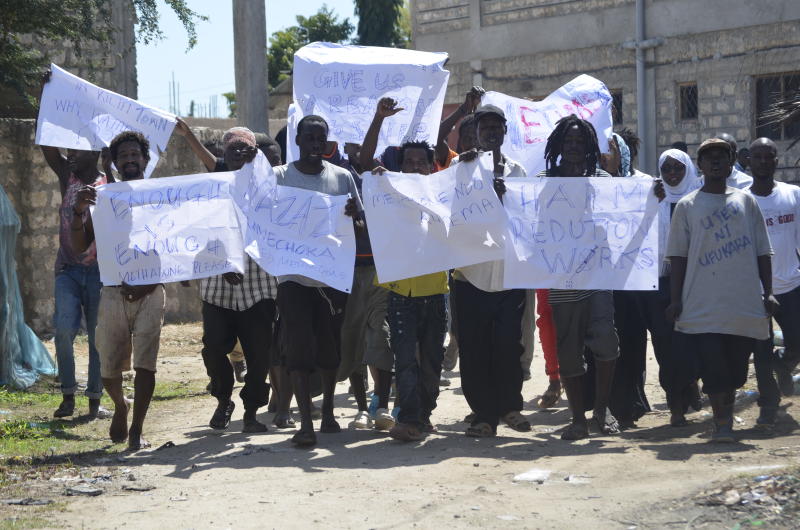 Drug addicts took to the streets to protest plans by the Government to transfer a treatment centre to Watamu from Kilifi town.
The coastal town is reeling from drug addiction, but addicts have to travel to Malindi Rehabilitation Centre, more than 50km away, for treatment. The other alternative is Mombasa, which is more than 70km away.
The addicts claimed that the Government was planning to introduce methadone, a drug used to treat addiction, at the Watamu centre, nearly 40km away, instead of setting up a rehabilitation centre at the Kilifi County Referral Hospital.
On Tuesday, a number of addicts took to the streets to demand that Governor Amason Kingi intervenes to have drug rehabilitation services made easily available.
Denied treatment
Read More
They protested that taking more rehabilitation services to Watamu instead of Kilifi denied hundreds of drug addicts a chance for treatment.
According to the addicts, making the journey to Watamu is expensive, leading to many addicts defaulting on treatment. They said many of them were jobless and could not enroll in expensive rehabilitation programmes.
"I stopped going to take methadone in Malindi because I don't have money. I decided that I want to quit drugs, my family supported me but we are not able to raise money for rehabilitation," said a man who confessed to being a heroin addict since 1999.
The protesters accused the Government of discriminating drug addicts in Kilifi.
"All other county headquarters in Coast region offer methadone programmes and drug addicts have easy access to it, but we have to travel long distances to get treatment," said another addict.