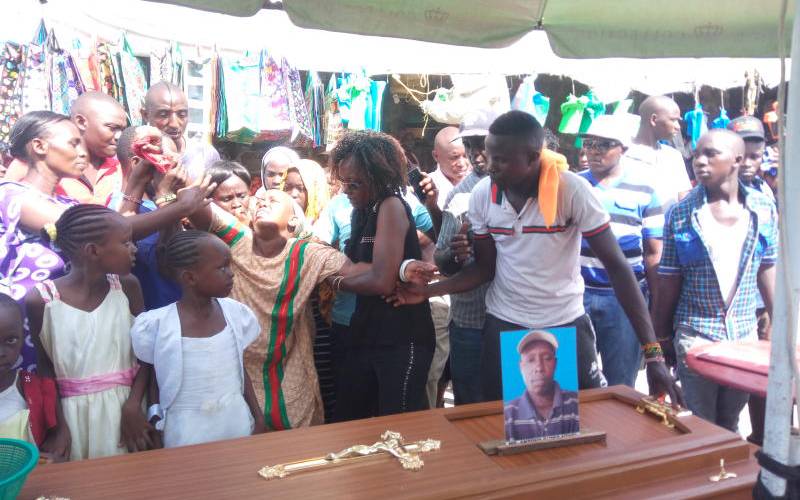 Mombasa residents were on Sunday treated to a gruesome spectacle when the driver of a hearse ferrying a casket to Vanga abandoned it in the middle of the road after crossing the Likoni Channel.
The deceased who hailed from Vanga, and was identified as a tomato vendor at the ferry area had died at Coast General Hospital in Mombasa.
Trouble started when the hearse crossed the channel and vendors surrounded the hearse demanding to view the body of the deceased.
Irked by the swelling and nagging crowd, the driver claimed his program had been interfered with hence he offloaded the coffin and left.
Read More
The bewildered bereaved family had to raise money to hire a vehicle to transport the body.
Businesses came to a standstill as terrified onlookers milled around but kept distance to watch the bizarre spectacle as soon as the body was discarded.
The family told The Standard that they had hired a 14 seater-Matatu from Vanga to ferry their kin from Coast General Hospital morgue with few family members on board accompanying it.
The deal was sealed on and the driver charged Sh16,000 cash for the whole trip and the money was paid before the start of the journey.
Simon Joseph who spoke on behalf of the family told The Standard that his younger brother Anthony Kioko, had died a week ago after battling brain cancer.
Kioko sold tomatoes at the ferry area for five years. His colleagues at the area had contributed to hire of the hearse hence the demand to view the corpse.
"He was one of us. We made contributions and we have to view the body because a number of us will not be able to travel to Vanga for burial," one was heard shouting.
"Majority could not travel to Vanga so we thought it was better for them to give their colleague last respect within their business premises, "said Simon.