Dreaded gang members gunned by police in Kilifi County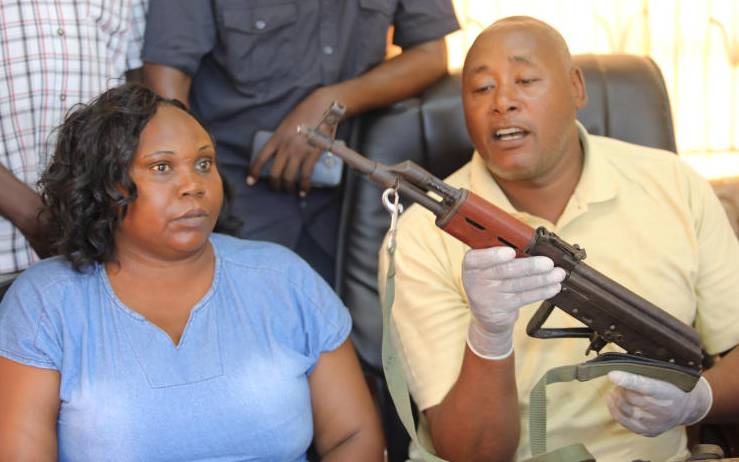 Three members of a terror gang which has been terrorizing by robbing owners of MPESA at gun point were Sunday gunned down by highway police officers along Mombasa-Mariakani road.
The police also recovered two AK 47 rifles and 59 rounds of ammunition they were brandishing as they robbed two businessmen at rabbai and Mazera in Kilifi County.
Rabai Sub County police boss David Maina confirmed the killing of the terror gang which included one of the most wanted suspect believed to the ring leader of the group. The suspect was released from the prison by the court on robbery with violence cases.
Maina said Simon Kinyua who recently shot dead a police corporal in Taita-Taveta where he was being sought for other crimes in Mombasa was among the killed terror gang.
"Yes it is true Simon Kinyua is among the terror gang who was shot dead in a feeder road along Mombasa-Nairobi main highway today. He was shot dead by the police when he refused to surrender after being ordered by the police" said Maina.
The police explained that before being killed, the three including a motor bike rider raided a shop at Dr.Kraph trading centre in Kilifi and robbed MPESA businessman Mohamed Turbani of Sh 60,000.
The police said after the robbery at Dr. Kraph, they proceeded to Mazeras where they also robbed supper market trader Mohamed Isaak of Sh 600,000 along the highway.
"When I received information about the robbery at around 11 am, I asked the officer in charge of police highway patrol Ms Emmily Ngaruiya who teamed up with Inspector Kazungu Katana track down the four suspects" said Miana
The police boss explained that after a short while Ngaruiya and her team spotted the four on a motor bike at Kokokotoni and waved them down.
The suspects however rode into a feeder road from the main road when the police followed them in hot pursuit.
He said they tried to dodge the police but the hawk-eyed police officer caught up with them. On sensing danger, the suspects who were brandishing their AK 47 riles opened fire at the police who were following in hot pursuit.
"My officers gunned two of them with no mercy after they tried to shot at them. One of them who tried to escape and hid in a kitchen in a nearby house was also gunned down after he emerged from the kitchen with sword as he charged at me" said Maina.
He said the fourth suspect who was the motor bike driver surrendered to the police after being confronted in the same area.
Maina said Kinyua was confirmed to be the terror gang leader by police officers from Mombasa who said he recently killed a woman at MPESA.
Police officers at Changamwe said Kinyua was wanted for the killing of a police corporal who had gone to arrest him in Taita Taveta. He was wanted for the murder of several people in Mombasa