Sh1m bounty for three men in Italian's kidnap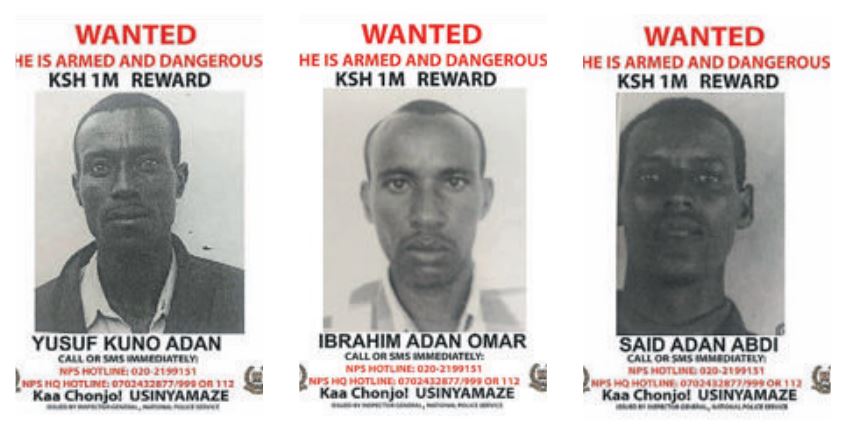 Police have placed Sh1 million bounty on the heads of three suspects linked to the abduction of the Italian volunteer in Kilifi County.
Syllvia Constance, who worked at an orphanage in Chakama, Malindi, was abducted on Tuesday night and has not been found.
Police have so far arrested 17 suspects and Saturday released photos of three others believed to have vital links to the incident.
The suspects are Said Adan Abdi, Ibrahim Adan Omar and Yusuf Kuno Adan. While making the announcement at CID headquarters in Kiambu, Inspector General of Police Joseph Boinett asked the public to volunteer information that may lead to arrest of the suspects to the nearest police station.
Mr Boinett also asked Moses Mbogo and Joseph Mabakuna to report to the nearest police station to explain how motorcycles registered under their names were found abandoned in Chakama.
"The two motorbikes found by police officers are suspected to have been used as getaway conveyors," he stated.
He said police had traced the motorcycles from the company that assembled them to the trader in the coastal region saying the two parties had defended themselves against any involvement in the kidnap.
New owners
"We are going for the registered owners… We also ask the public to ensure that they register their vehicles and ensure that they are properly transferred to new owners when they sell to another person or else you become a suspect during such incidences," warned IG. The abduction has left local villages in fear. Zakaria Dhulu, a resident who works with Africa Milele Onlus organization, said the attackers were organized and seemed to have planned the abduction well in advance.
He believes the men kidnapped the Italian after she failed to give them money.
Dhulu said that he had met Silvia during the day and they had planned to tour some villages in Tana River County in December to assist the needy.
He added that the organisation paid schools fees for his seven-year-old son at a private school in Lang Baya.
The organisation is involved in health, education and charity work in Chakama and the surrounding villages.
"This was her second visit to this area after coming in September and she came along with three other colleagues from Italy," he said.
Silvia's colleagues left for Italy last week and they were to return in December with a team of 12 volunteers.
He said that the assailants accosted the Italian as she entered her room.
"She arrived first in September and stayed for 18 days and left on September 18 for an orphanage in Likoni, Mombasa County before she flew out on September 22," he said.