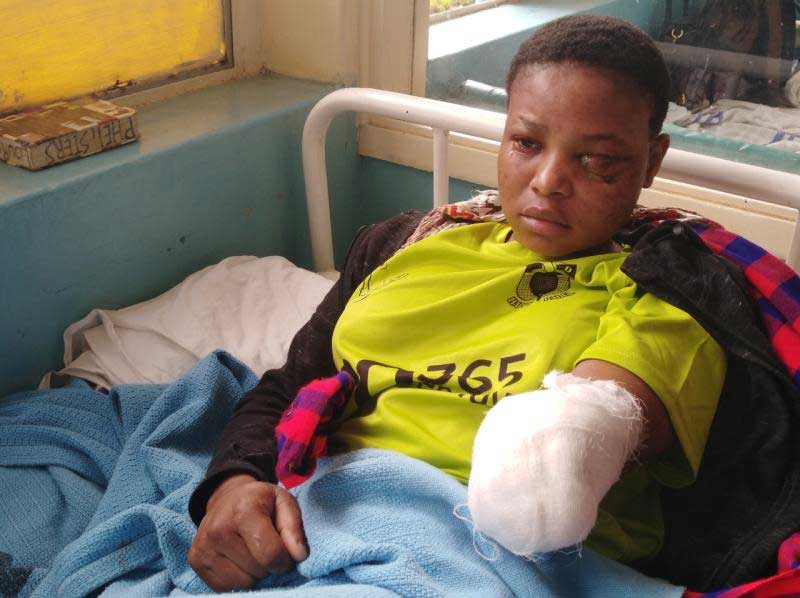 Irene Mbithe will never forget her ride to hell three weeks ago.
What started off as an uneventful journey to her village in Kenya-Israel, which is four kilometres from Machakos town, ended up with Mbithe screaming for her life in the Tsavo National Park as a wild beast tore her body apart.
The 20-year-old hairdresser had visited her aunt in Nairobi's Pipeline estate on July 27. Two days later, she decided to travel back home but failed to find a matatu to Machakos town after arriving late at the City Cabanas stage.
After waiting for hours, she begged a driver whose truck was parked by the road for a lift. The man agreed to drop her off at the Machakos junction.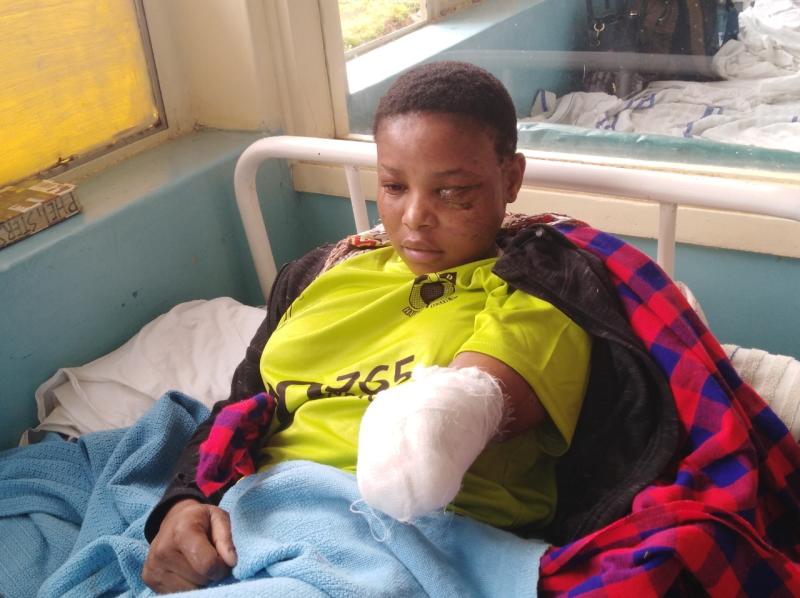 Ms Mbithe said when they reached Mlolongo town, the driver asked her to pass him a bottle of water that was next to where she was seated. That's the last thing she remembers.
Read More
"This was a 'magic' bottle. After touching it, I fell asleep and only woke up the next day in Mombasa," she said.
Mbithe said the truck driver refused to say why he had driven her to the coastal town. He also refused to give her money for fare back to Machakos.
Desperate, she went to a truck yard and started begging for a ride back home.
"There was this trailer that had three people. I approached them and talked to one of the guys in a local dialect, and he agreed to give me a lift," she said.
Mbithe felt safe because she was in the company of a man from her community.
They started their journey at around 5pm but as they approached Mariakani, one man started demanding sexual favours from her.
"One of the men started touching me. He told me that my reaching my destination depended on my willingness to co-operate or they would rape and dump me," she recounted in tears.
Night fell
She said as the journey progressed, she resisted as best as she could. Night soon fell and as they entered the rugged terrain of the Tsavo – a dry, unforgiving place teeming with wild animals – the threats intensified.
The truck slowed to a crawl and the emboldened men set upon her.
"One man dragged me forcibly to a corner of the dark cabin while undressing me as I kicked him and screamed," Mbithe said.
The two tussled for a while, with Mbithe desperately trying to defend herself. Then the driver spotted a police road block in the distance.
The attack stopped and the men quickly opened a door and threw Mbithe out together with her bag.
Mbithe said the fall knocked the wind out of her and she lay on the ground, dazed. To make matters worse, she could hear low growls in the darkness and was too scared to move.
"An animal approached at a run. I could see its eyes glittering in the darkness from the lights of passing vehicles. I guess it was a cheetah," she said.
Mbithe said the animal struck her on the left side of her head with such force that she briefly lost consciousness. She was then dragged deeper into the Tsavo.
"I could see the animal gnawing on my hand. I was helpless. I could do nothing but scream as the big cat continued chewing," she recounted.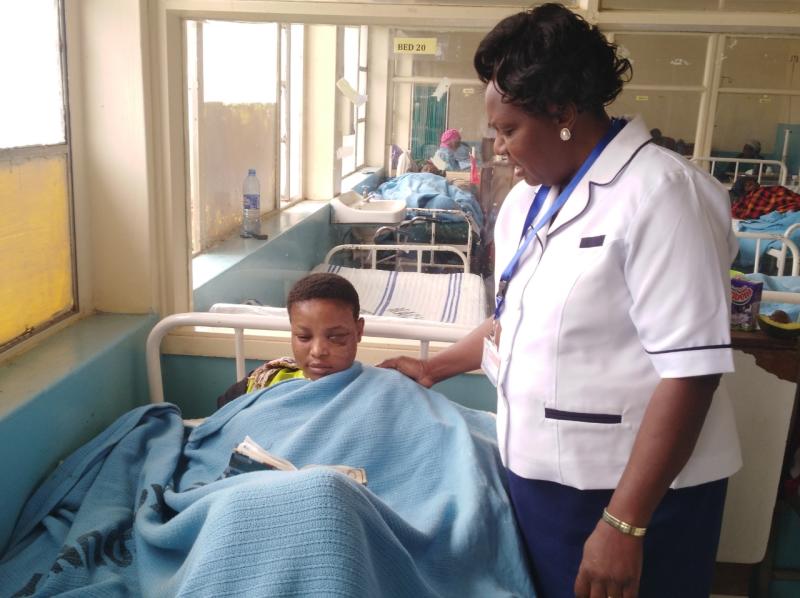 Alerted police
Her screams alerted police officers at the road block who rushed to her rescue, firing in the air to scare away the animal. They took her to Mtito Andei Hospital before she was transferred to the Makindu Sub-County Hospital.
"We received the patient in a state that can be described as post-traumatic stress disorder. We stabilised her and amputated her left hand," said hospital head David Kasanga.
Mbithe also had surgery to close the socket where her left eye used to be – more damage inflicted by the wild animal.
Tsavo West Senior Warden Ken Ochieng' told The Standard that the stretch where Mbithe was dumped was a protected area where motorists or passengers were not authorised to stop.
"This is a risky area. Nobody is allowed to alight in this protected region because marauding beasts can attack in broad daylight," said Captain Ochieng'.
As Mbithe begins the slow journey to recovery, her mother is appealing for help to settle the medical bills.