Veteran musician and 'VoK' tune composer arrested for begging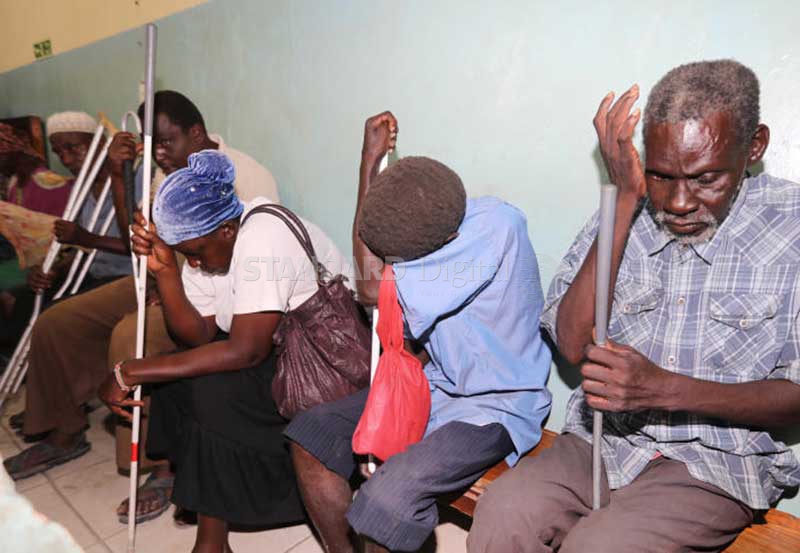 A veteran musician and composer of the defunct Voice of Kenya's (VoK) signature tune, Ali Mwangusha, was among individuals arrested on the streets of Mombasa yesterday.
Mr Mwangusha was nabbed during an operation conducted by the County Inspectorate Department to rid the town of street families.
For decades, Mwangusha's melodious flute (chivoti) played the familiar tune, holding the attention of thousands of viewers who tuned in to the national broadcaster.
But the Kwale-born musician has since fallen on hard times. When he spoke to The Standard at the Mombasa Municipal Court where he was waiting to be arraigned, he said he was jobless and relied on alms for survival.
He revealed that he had been working as an entertainer and artisan at a cultural centre before a number of employees were retrenched after tourist numbers dwindled and the sector struggled.
"Since I was laid off from the Bombolulu Cultural Centre three years ago, I have had no job to feed my young family. I have resorted to begging on the streets of Mombasa."
Mwangusha recalled how he used to accompany the Bombolulu Cultural Dance Troupe to entertain arriving guests at the airport or at the port. The activities also extended to celebrations to mark national holidays.
He said those people who remembered him always offered to support him but the help was never enough to take him off the streets permanently.
Mwangusha, who became blind at the age of 12, said he was not ready to be taken into an almshouse for the elderly.
"What will happen to my family if I am taken away from them?" he asked as he waited for the magistrate to read him the charges.
But he did not have much to worry about on the judicial front after the magistrate ordered him taken back to Bombolulu, which he had listed as his home.
Briefing the press earlier, County Head of Inspectorate Mohamed Amir said they were carrying out the operation to rid Mombasa of street families and beggars.
This followed an outcry from residents that the beggars had become a nuisance and a few were even considered security threats.
Mr Amir however noted that the Inspectorate personnel involved in the operation were under firm orders not to mishandle the street families while making the arrests.
"Governor Hassan Joho has given his consent to the exercise and insisted that they (street families) should not be harassed. We are looking at resettling them and seeing that the children are taken to school," he said.
But David Owino, a beggar usually located on Digo Road and who is handicapped and confined to a wheelchair, alleged that he was injured after Inspectorate officers forcefully ejected him from his 'place of business'.
"I am in pain in one of my limbs after I was mishandled by officers from the county," said Mr Owino, who lives in Likoni.