New cases of lead poisoning detected in Mombasa's Owino Uhuru slums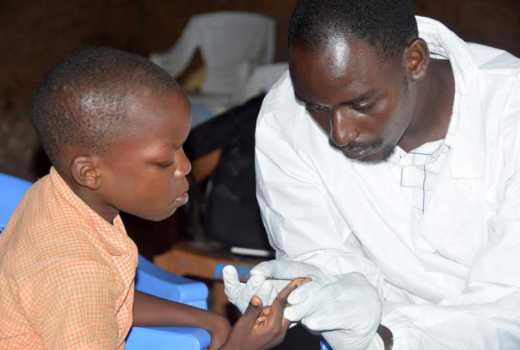 New cases of lead poisoning have been detected among impoverished residents of Owino Uhuru slums.
This follows tests conducted last week by medical experts led by Victor Ochola, a radiographer. Test results show three out of 18 residents have high lead levels in their blood.
Officials said the latest tests were conducted on a group of slum residents, who had never been examined before.
Last Friday, Dr Ochola warned that lead contamination in the area and its health effects would last for a long time since lead is a heavy metal with a half life of 53,000 years.
He explained that heavy metals are hard to eradicate from soils, and that they easily enter the food chain through storm water.
Under World Health Organisation (WHO) guidelines, lead levels of about five microgrammes per decilitre are considered unhealthy and worthy of investigation.
One of the three people affected by lead poisoning is a baby, who was found to have eight microgrammes of lead per decilitre of blood. Ochola warned that this is "very high for a child".
This child has developed bone malfunction and can no longer walk. The other two victims are a man and woman, according to Ochola.
Medical experts and activists believe thousands of slum residents were exposed to lead contamination through gas emissions, effluent and other physical exposure from the defunct Kenya Metal Refinery close to 10 years ago.
Three residents of Owino Uhuru slums have been detained at Coast Provincial General Hospital over unpaid bills after treatment for lead poisoning. Those exposed to lead suffer bone and skin problems, anaemia and other blood disorders, among others.
According to Dr Ochola, the highest contamination ever detected in the slum involved residents whose blood contained 420 microgrammes per decilitre of blood.
A Senate investigation of the factory was conducted three years ago, but its findings were never published.
Centre for Governance and Environment Action, a local advocacy group, has sued the factory for compensation.
"Over 3,000 people were affected by the activities of the lead smelting factory. They require compensation for medical complications and deaths that arose from the alleged negligence," said Phylis Omido, executive director, Centre for Justice Governance and Environmental Action.