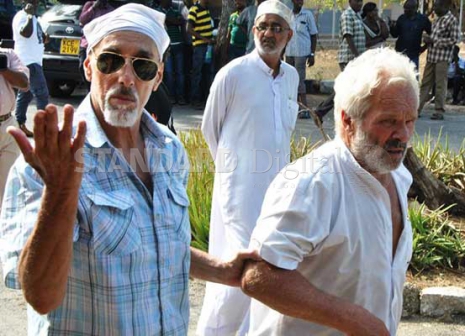 A drug trafficking suspect, Bosire Nyaigoti Makori, who police claim is a leading supplier between Tanzania and Kenya is among scores of people arrested with narcotics and cash totaling Sh21 million. Heroin sachets and packages worth Sh10 million and different genuine and fake currencies totaling Sh5.4 million was recovered from the suspects at their hide outs in Kwale and Mombasa, according to the police who paraded them last evening. Also arrested are two Italians and a Kenyan said to be international fugitives are facing possible extradition after they were arrested by police in dramatic scenes early this week. Mario Mele, a Malindi based tycoon, has been missing since Wednesday after he was arrested by armed policemen from Nairobi. He is being held alongside Leone Alberto Fulvio, an Italian fugitive who has been on Interpol's list of most wanted since 1997, and fellow countryman Stephano Poli. Leone fled to Kenya in 1993 to escape an eight year conviction in Torini, Italy. He acquired Kenyan nationality in 2009 and is a licenced gun holder.
SEE ALSO: Baba is recuperating well in Malindi after surgery, say MPs
Two pistols, 25 rounds of ammunition and two cars were also recovered in a sting operation that netted the three. "This will send a strong message that the Coastal region and Kenya at large can no longer be used a safe haven for criminals," said Coast Regional Police Coordinator Philip Tuimur. A Mauritius national, Rogers Alberty, was also arrested from his home in Likoni Mombasa. Police say Alberty has been masquerading as a musician but has been recruiting young Kenyans to ferry drugs to Mauritius, Seychelles and Madagascar. He is believed to be responsible for the arrests of a number of drug couriers and works in close cooperation with Juma Makayamba, who also sources for narcotics and helps recruit Kenyan drug mules.
SEE ALSO: Elite squad deployed to combat drug trade ring
Tuimur described Makori as a repeat offered who escaped from police custody in hand-cuffs. "Bosire is the supplier of heroin sourced from Tanzania to South Coast. We were able to arrest him with the complete syndicate of narcotic drug supply that spreads to Mombasa," said Tuimur. Other members of his syndicate include his brother Mwaniki Nyaigoti Makori and Ruwa Mwaruwa who police say store and distribute drugs and money for the syndicate. Maimuna Juma Shabaan alias Muna Ali, a woman the authorities suspect is used by the syndicate to cohabit, source and rent safe houses was also arrested. Fredric Oriema Kumba alias Kipara, who Tuimur said has been operating the narcotics trade in the North Coast was also arrested.
SEE ALSO: Church bus ferrying mourners turned back in Meru
He identified Mombasa's Kisauni, Bamburi, Shanzu and Kilifi's Mtwapa as the main areas supplied with the Tanzanian sourced heroin by the said syndicate. A Tanzanian national Masuo Bakari Tajiri police said is an ally of Kumba was also picked up at his home in Mwembe Tayari Mombasa. Yesterday, police threatened to deport Mele, Leone and Poli to Italy, exactly two months after the Akasha brothers -- Baktash and Ibrahim -- and their accomplices, Indian fugitive Vijaygiri Goswami and Pakistani national Gulam Hussein of Pakistani, were shipped to New York to face drug trafficking charges. Tuimur told journalists that the three are wanted in Italy to face "organised crime" charges and have been detained on the basis of an Interpol Red Notice. "The three Italians have been on the Interpol Red Notice for their involvement in various forms of organised crime. We intend to deport them to taly," Tuimur said. But a High Court in Malindi issued a temporary order stopping Mario's extradition to Italy where he is wanted for a 2013 tax evasion matter.