Ivory trafficker jailed for 20 years, fined Sh20 million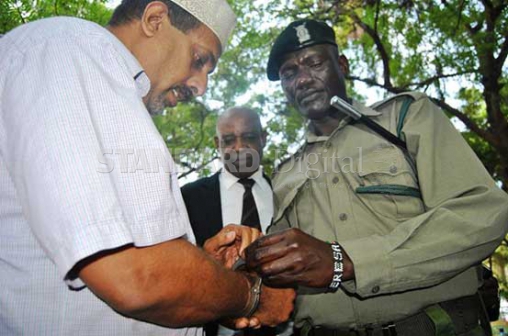 Former fugitive Feisal Mohamed Ali was last evening jailed for 20 years and ordered to pay Sh20 million in a stunning judgement, a magistrate said should send a drastic message against international trade in animal trophies in defence of endangered animal species.
The magistrate described the trial as extraordinary involving a grave crime against the flora and fauna and the economy against which a deterrent sentence was required. She declared that a stringent sentence is necessary to "bring this mess [poaching] to and end" and save the elephant.
"This is not an ordinary case. It is a serious offence which calls for deterrence because it touches on the very nerve of the economy of the country. Action such as this action by persons like the accused who are depleting our resources cannot be looked down upon because over 174 elephants were killed," said Principal Magistrate Diana Mochache referring to the charge. "In order to bring this mess to an end and after listening to mitigation I find the offence very serious and sentence the accused to 20 years plus a fine of Sh20 million," she said and added the convict may appeal the sentence and verdict in 14 days.
The DPP welcomed the conviction and sentence but expressed shock that Feisal's co-accused Abdulhalim Sadiq, Ghalib Sadiq Kara, Abdulmajeed Ibrahim and Parveez Noor Mohamed were acquitted for lack of evidence. Despite the stringent sentence Feisal displayed little emotion and even managed a smile and waved to his relatives.