Kenyan pilgrims jet back, recount Hajj chaos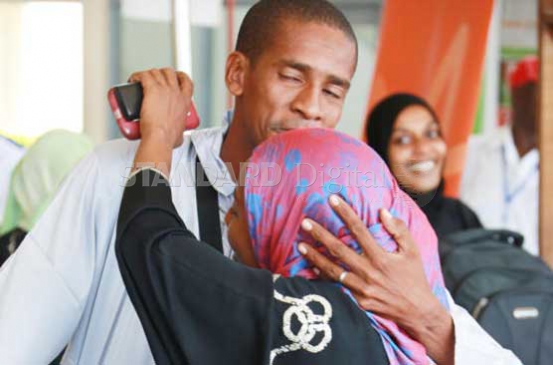 NAIROBI: Joyous families celebrated yesterday as their relatives returned home from the pilgrimage in Saudi Arabia's Mecca city where several Kenyan pilgrims died in a stampede that claimed hundreds of lives.
At least eight Kenyans, including the wife of a former MP from Mombasa, remain missing after the accident in which six of their compatriots were confirmed to have died. The pilgrims died in Mina, a town neighbouring Mecca, where they were performing a ritual called "Stoning the Devil".
Close to two hundred men and women flew into Mombasa's Moi International Airport yesterday aboard a Rwandair flight, happy to be back but sorrowful that several Kenyans have not been traced several weeks after the stampede.
LOVED ONES
Some Kenyans remained behind in Saudi Arabia hoping to locate their missing loved ones. Pilgrims identified two people from Tana River as among the missing.
Friday, the pilgrims were happy to return home, but in private, some questioned the official version for the stampede in which six Kenyan pilgrims died.
Tears of joy flowed freely at the airport as the more than 200 Kenyans landed. Another group had arrived at the airport early in the morning after completing the Hajj exercise.
"We are happy to be back home but also sad following the Mina and Medina incidences where hundreds of pilgrims died and others injured," Sheikh Idrisa Bakero from Tana River told The Standard on Saturday.
He said two pilgrims from Bura in Tana River are still missing. "We have searched all the hospitals and morgues but to no avail. We are losing hope that our two brothers will not surface alive,'' he said. Sheikh Bakero said Saudi medical authorities informed them that the bodies will only be identified through DNA as they were decomposing fas.
Sheikh Ibrahim Lomi remained behind in Saudi Arabia to continue with the search for the two missing pilgrims. "He will be there for a week as he tries to find out the whereabouts of our missing brothers,'' he said.
Saad Malelo from Kilifi County said he had just left Mina and retired to his tent when he heard news of the incident. "I had just completed my turn at Mina when the unfortunate happened,'' Malelo said.
Human rights activist Khalif Khelefa, who had gone to receive his daughter-in-law, asked for the improvement of the safety measures.
CONTRASTING FIGURES
A pilgrim claimed the official version of events in which African pilgrims were blamed for the stampede was erroneous.
Some reports indicate the stampede was caused when a crowd of pilgrims surged forward to view a member of the Saudi royal family and his entourage when they came to the venue of the stoning at Jamarat in Mina.
After the stampede, Supreme Council of Kenya Muslims Organising Secretary Shariff Hussein said six pilgrims from Kenya died. However, the number of Kenyans who died has not been verified, with reports indicating that some Kenyans may have travelled to Saudi Arabia from other countries.
About 5,000 Muslims from Kenya attended this year's pilgrimage.