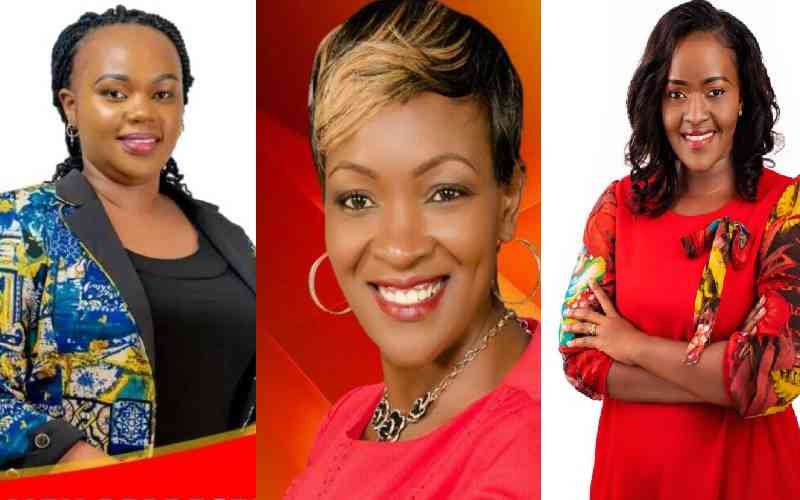 The position of Woman Representative in Murang'a County has attracted a fierce battle with more than six aspirants seeking to replace the outgoing Sabina Chege.
Ms Chege is listed among the individuals to be nominated in parliament if the Azimio coalition wins the election. The incumbent left mixed signals after her supporters learnt she had dropped her quest for the gubernatorial position to join the Azimio team endorsing Raila Odinga for Presidency.
The race has attracted radio journalists Waithira Muithirania (Jubilee Party), a former director of Athi Water Works Development Authority (AWWDA) Betty Njeri Maina (UDA), and Beth Waithera Kibinda (Farmers Party).
Others are Frasia Muthoni Chege (Independent), Isabel Njeri Kimani (Usawa), Julia Wanjiru Kinuthia (ANC) and Leah Wanjiru Muchai (Safina). Muithirania and Maina are perceived as influential and have the financial muscle as they traverse the seven constituencies.
To spice their campaigns, the aspirants who have identified themselves as daughters of the County of Murang'a, are trending with unique slogans.
Muithirania is referred to as Nyanya Nyanya meaning she is as pretty as a ripe tomato, while Maina is Betty ee Sawa meaning that Betty is the best. In 2017, she emerged second to Chege after a tight race and now says she will work toward the transformation of gender issues focusing more on women and youth.
"These two groups have been marginalised for years across the country and county, and I intend to address their issues once elected," she said.
As Chege returned to parliament for a second term, Muithirania was appointed to the board of directors of the Kenya Industrial Estate after a face-off in 2017.
Waithira added that youth currently comprised 65 per cent of Murang'a population pointing to an urgent need for the leadership to support their ventures into the economic empowerment programmes. She says her interest will be on interest groups, youth, women and people with special needs, and also ensure there will be equitable distribution of bursaries for the very needy students including those with special needs who in the past have been ignored.
"I will also work towards nurturing talents for example soccer, music and drama among others," she added.
Ms Maina has promised to empower the young and old women who for long have been abandoned in the villages.
"I will spearhead a move to raise the voice of the women and the young to ensure their interests are factored in the government budget," said Maina.
Ms Muthoni said her interest is to care for the young mothers and vulnerable persons in the community.
"I will work towards empowering the community and ensuring fairness. I will join hands with youth and women groups to ensure they are taken to other levels," said Muthoni.
"Should I be elected, I will establish mentorship programmes targeting the youth and women, bursary schemes and value addition initiatives," said Muthoni.
'Boy-child' related issues
Kibinda vowed to push for policies around 'Boy-child' related issues to be addressed by both national and county governments, and also to concentrate on maternal health and mental wellness at a national level. She said lack of capital to start businesses, is an issue for Muranga residents and she will work with saccos to provide cheap loans. Resources from NGAAF, she said, will be shared equally with the groups for the sake of effective empowerment.
"Due to unemployment, great stress levels and marginalisation, many of the young men are lured into drug and substance abuse as well as gambling. If not controlled this can adversely affect the young generation," she said.
Ms Kinuthia has said on her platform that if elected, she is to empower the local farming community and ensure their produce gets better markets.
"I will work to ensure policies that get farmers better returns and learners in schools get adequate support from bursaries to enable completion of their education," said Kinuthia.
Usawa Kwa Wote party candidate Ms Kimani said her interest will revolve around the common man in the villages and ensure they get support from the national and county governments.
"I will ensure the small-scale traders have access to cheap credits and their issues are addressed immediately to save them from being discriminated by the authorities as it has been happening," said Kimani.
Ms Muchai promised to dedicate her time to transforming the living standards of communities ensuring the health facilities are stocked with drugs and holding regular public engagements.
"Through Ngatha Foundation we shall be working to ensure the local issues with a concentration on women and youth. Also, work towards ensuring there are effective policies on guiding the small scale businesses are farmers," she said.