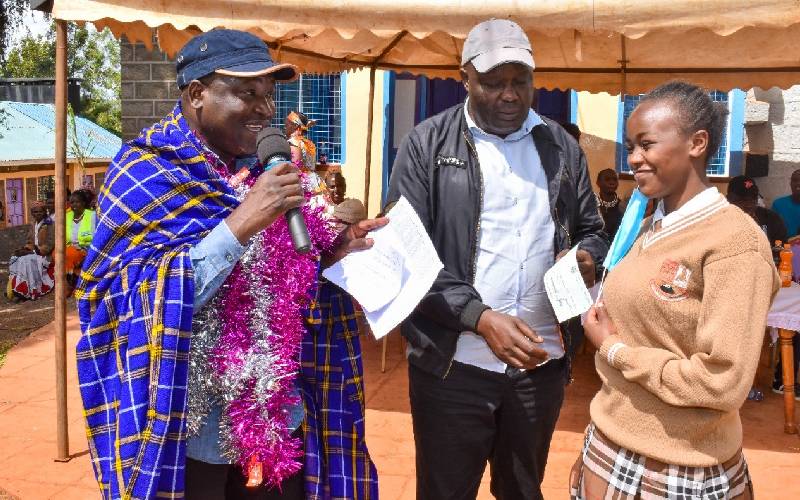 A local community-based organisation will establish a rehabilitation centre in Nyeri County to supplement government efforts in addressing alcohol addiction.
The Shining Hope for Communities (Shofco) said this was premised on a recent survey placing Nyeri among the counties worst affected by alcoholism.
Shofco CEO and founder Kennedy Odede said there have been inadequate facilities to cater for youth struggling with alcohol and substance addiction.
Dr Odede spoke on Monday while distributing bursary cheques to 30 bright but needy students in Muthinga and Majengo slums.
He said they will offer 25 more scholarships and Shofco would partner with the government in healthcare, water distribution, fight against gender-based violence and Covid-19.
"As we seek to expand our reach in Central Kenya, Nyeri will remain as the focal point for the rest of the 11 counties which we intend to reach in future," Dr Odede said.
They will also start a water distribution programme through its Water for All Initiative that has so far reached over three million Kenyans.
Yesterday, Dr Odede met members of Shofco Urban Network (SUN), a self-sustaining advocacy group.
"I'm glad to be here in Nyeri. I'm elated by the kind of reception you've accorded me and my team. Thank you for welcoming and joining SHOFCO here in Muthinga. I have come so that we can support our children to go to school," Dr Odede said.
Peter Mutahi, whose child benefitted from the scholarship cheques, thanked SHOFCO for coming through for his daughter whom he said was almost dropping out of school after he lost his job as a driver.
"Shofco came at the right time. I lost my job as a driver and I don't have any source of income. I have received the cheque and I'm now happy because my child will remain in school for the rest of the year," Mutahi said.
Dr Odede's meetings with community members in Muthinga and Majengo were attended by area chiefs who lauded the organization for sponsoring needy students.
The organisation has partnered with the government in various activities including healthcare programs, water distribution, scholarships, gender-based violence response, and the fight against Covid-19. It has registered over 3000 members in the county in just under nine months.
Dr Odede, who grew up in abject poverty in Kibera slums, said Nyeri will be the nerve centre of Shofco community development activities in the region. On top of it, the organization will also start a water distribution program through its Water for All Initiative that has so far reached over three million people countrywide.
Shofco has won several awards in healthcare, water distribution, the fight against Covid-19, and education, just to mention a few.
The organization has been recognized by the United Nations, Bridgespan Group, Hilton Foundation and Schwab Foundation among others. In 2020, President Uhuru Kenyatta awarded Dr.
Odede with Head of State Commendation for his role in fighting Covid-19 in the informal settlements across Kenya. The organization erected over 2000 handwashing stations countrywide, that were used over 52 million times.