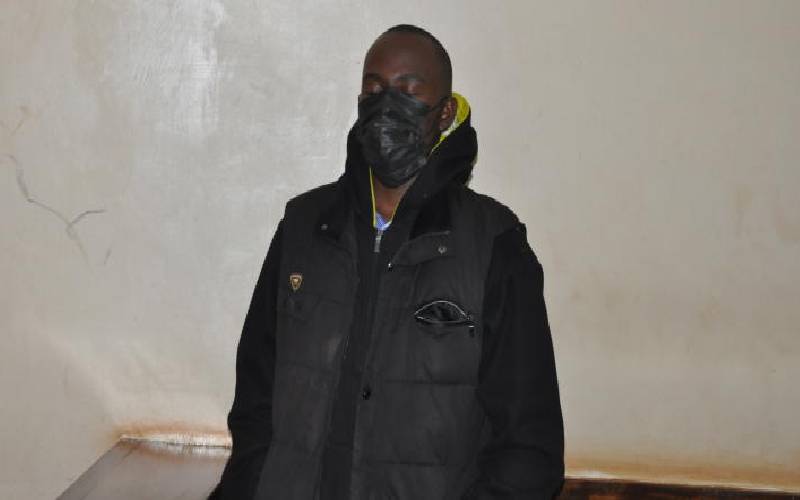 A Murang'a politician was on Monday charged with obtaining money through false pretences.
Kenneth Kinuthia, the United Democratic Alliance (UDA) aspirant for the Kamahuha ward, was charged with obtaining more than Sh16 million from businesswoman Caroline Wambui.
He pretended to be in a position to secure her tenders.
Mr Kinuthia appeared before Kiambu Chief magistrate Emily Ominde. He is said to have obtained the money from Ms Wambui in Kiambu town between February 1, 2018 and December 2020.
Mr Kinuthia was accused of receiving the money while falsely pretending that he had secured tenders for supply to Saboti Constituency Development Fund (CDF) staff uniform. He also claimed he had won a tender to construct classrooms in the same constituency, a fact he knew was false.
Ms Wambui met him through a mutual friend in Murang'a. At the time, Mr Kinuthia was running a uniform shop in Rongai. According to Ms Wambui their friendship with Mr Kinuthia changed and they became business partners.
"Timely Fashions was a business selling school uniform, so Mr Kinuthia lured me into the business of supplying tenders in Saboti constituency," she said, adding that in March of 2018, she met Mr Kinuthia in the company of a lawmaker and they discussed the business.
Later she wired the money in instalments to Mr Kinuthia's bank account.
She said both the lawmaker and Mr Kinuthia were summoned to the Directorate of Criminal Investigations (DCI) headquarters in February. The MP denied ever meeting her while Mr Kinuthia had been escaping arrest.
"I lost my marriage of 14 years since some of the money I wired to him was from my husband's business. Mr Kinuthia blocked me and has been sending threats not only to me but also to police officers," she added.
Mr Kinuthia was arrested by DCI officers last Friday outside Nation Centre and detained at Muthaiga police station.
Defence lawyer Ken Kimani pleaded with the court to release the accused on bail, a request that was strongly opposed by the prosecution.
"I urge this court to consider the gravity of the offence that the bail terms consummate with the offence," said Harry Nyamesa.
Mr Nyamesa also objected to the release of the car the accused was driving at the time of his arrest. The court ruled that the car be detained for a further 30 days to allow police complete investigations.
Mr Kinuthia was released on Sh2.5 million cash bail with an alternative of a Sh5 million bond with surety of a similar amount. The case will be heard on August 1.