Leaders plan joint send-off for seven killed by herders in Meru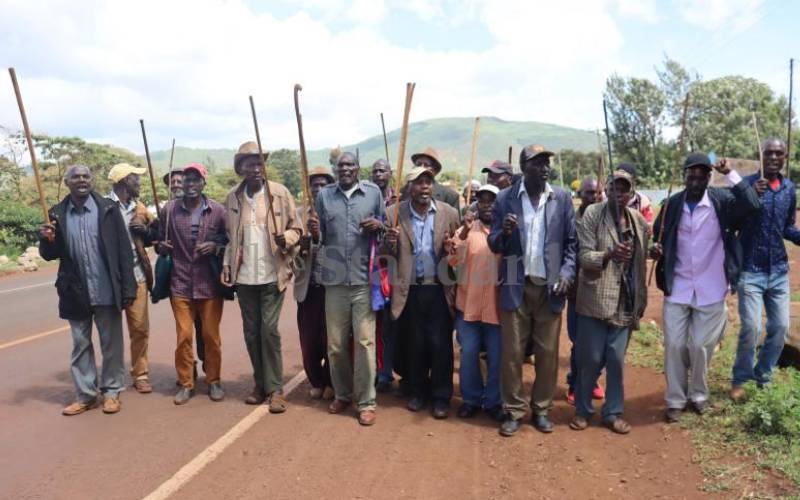 A joint church service for seven people killed last week in Meru by raiders suspected to be from a neighbouring county will be held on January 12.
Speaking yesterday, Meru Assembly Majority Leader Victor Kariithi, who was accompanied by Njuri Ncheke elders and other members of the burial organising committee, said the service will be held at Mweronkoro, one of the scenes of the killings, which happened last Wednesday night.
The seven, from the Tigania region in Meru, were shot dead by suspected camel herders from the neighbouring county, who had crossed over in search of pasture.
Kariithi said the joint burial organising committee had drawn a budget of Sh1.2 million to offer the victims a decent send-off.
The expenses include seven caskets, hearses and seven buses which will be used to ferry the families to the funeral service venue.
Kariithi said a post-mortem for all the seven will be conducted today at the Meru Level 5 Hospital Mortuary.
The MCA said the residents and leaders were unhappy with the insecurity in the area claiming the raiders, who were in possession of firearms had caused a lot of fear among residents.
"The community shall on Tuesday join the Njuri Ncheke elders from Tigania in presenting a memorandum to the Deputy County Commissioner at Uruu," he stated.
Kariithi also called for an overhaul of the security personnel.
Meru County Commissioner Karuku Ngumo said the security team from Meru and Isiolo will ensure justice is served.
Ngumo assured residents that they had made headway in their quest to apprehend the perpetrators.
"We have civilians in those areas who actually possess firearms against the law. The brief from those units from the National Police Service serving in those areas is to mount an operation to recover any illegal firearms in the hands of civilians," he said.
He said they had been in touch with the National Integration and Cohesion Commission (NCIC) in a bid to quell the tension in the area and have the communities along the common border coexist peacefully.
Meru Senator Mithika Linturi said the government should foot the burial costs and compensate the bereaved families.
"We are asking the families be compensated. Further, we are appealing to the government to meet the burial costs," said Linturi.
Nkomo ward politician, Desmus Kithinji, also called for security to be beefed up in areas neighbouring Isiolo County.