Garden restaurants a breath of fresh air in entertainment scene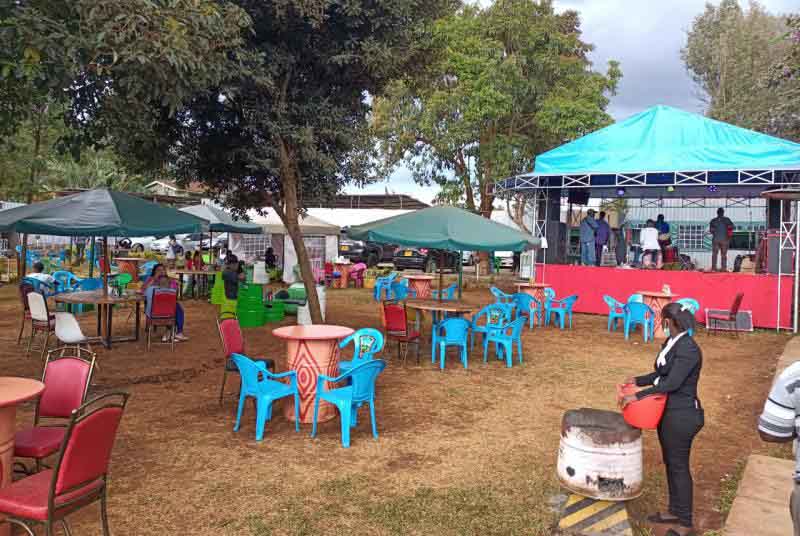 Granted, Nyeri town was not known as vibrant entertainment scene before the pandemic, with only a few bars and lounges offering late night entertainment.
There was little to look forward to on weekends. But with the pandemic shutting down bars and hotels, clients and hoteliers retreated to their homes and had to adapt to new way of life.
It was during this lull in the sector that Waruru Ndegwa came up with a new concept of entertainment, combining elements of outdoor setting and temporary structures.
Joy Greens Entertainment park is set on a two-acre piece of land that hosts open fire pits with sitting areas, as well as a family play park, Nyama Choma restaurant, car wash and two fabricated shipping containers turned into bar sections, and an open air sound stage, for live performances.
It might sound like a mix of everything, but Ndegwa has seen his concept gain momentum, hosting top Kenyan artistes for live performances every weekend since Covid-19 protocols were eased.
"I can say Covid-19 inspired me, because I had to think outside the box to attract clients. Many people preferred to park and chill (where people buy alcoholic beverages and stay in their cars)," he observed.
Ndegwa said fear of contracting Covid-19 from crowded bars made many people stay away.
Also with many families forced to stay home for months, many people wanted an outdoor experience where they could enjoy their meals and have the children play.
One of the challenges with the Nyeri hotels and clubs was that they were not family friendly.
The entertainment joints needed more space. This got Ndegwa thinking. Businesses were struggling due to the effects of the pandemic. Building a new structure was therefore out of the question because of financial flows at the time.
"If you look at China, they built fully functional hospitals in one month using prefabricated containers, its cheaper than putting up a building and with the right interior design you can create a comfortable space for clients," Ndegwa explained.
He chose to lease the land from the owner to avoid the cost of buying. It offered good space, and being located in a vibrant middle class residential estate made it accessible.
"We wanted to be near the Nyeri-Nairobi highway and have enough space which would minimises the risk of overcrowding, an issue which puts off many revelers today," he said.
His love for live concerts was the reason he set up a stage for live bands with musical equipment in place. "I love live concerts and I knew that with this, I would offer a different experience for my clients because most clubs rely only on Deejays," he said.
Across town, in Kingongo estate, Julie Githinji has turned the backyard of her parents' compound into a garden restaurant that has a rustic and homely feel.
It took her two years to set up The Backyard Lounge, changing what used to be a pigsty and hay barn into well-manicured lawns, colourful flower beds with potted plants and cemented open fire pits for sitting and a lounge area.
Close to Joy Greens is Stutt Garden, where Paul Kibuchi, popularly known as PJ, has turned his yard into a restaurant located in a residential house. PJ too started the restaurant after the Covid-19 pandemic.
Other hotels that offer garden style settings are FK and Bantu Resorts the outskirts of Nyeri town.