Chogoria girl wanted to be a doctor, father says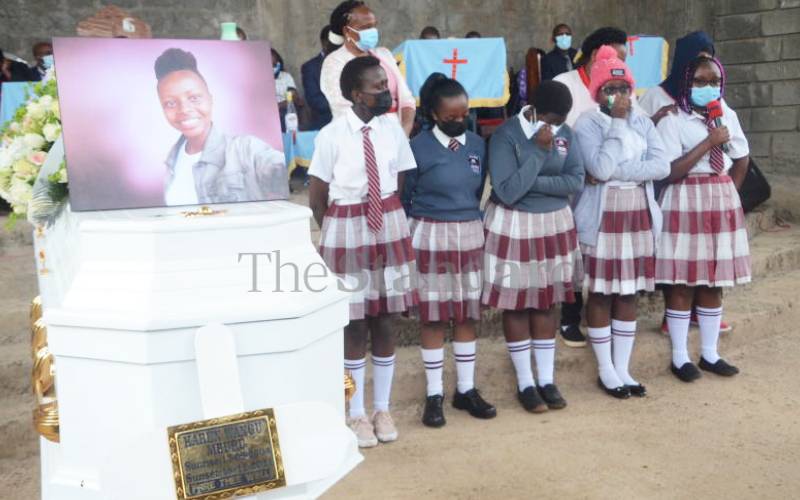 Sadness engulfed Ikinu village in Kiambu County as one of the four Chogoria Girls High School students killed in a road accident last week was buried.
Karen Mburu was eulogised at an emotional ceremony attended by hundreds of mourners. Her parents, James Mburu and Lucy Ndung'u, sat pensively throughout the funeral service.
In a tribute, they said Karen was hardworking and aspired to be a doctor. "I can't forget the charming smile and hugs during parents' days," Mr Mburu said.
Mburu said they had high expectations for Karen, who had been doing well in academics. "You were aspiring to be a doctor and we were looking forward to having one in our family," Mburu said in his tribute. He said when he heard of the accident on Kenol-Sagana road, he rushed there to save Karen, but found her dead. "Darkness engulfed my soul. I couldn't believe you were gone... my heart sank to the lowest depth," he said.
Ndung'u was heartbroken. "My family chain is broken and nothing seems the same... but as God calls us one by one, the chain will link again," she said.
Karen was aged 18 and was to sit Kenya Certificate of Secondary Education exam in March next year.
Chogoria Girls principal Winnie Wainaina eulogised Karen as hardworking and God-fearing.
Kiambu Governor James Nyoro, in a condolence message, condemned the increase in cases of road accidents and urged motorists to be more careful, especially during the festive season.
He said the accident was a painful experience for Chogoria students and a big blow to parents who lost children. "It is painful to lose children at such a tender age through careless driving. We call upon drivers to follow traffic rules to the letter," Nyoro said.
He said what was meant to be a joyful day for the children turned tragic due to reckless driving.
The December 18 accident claimed four lives. More students aboard the same vehicle sustained injuries.
The driver of the lorry that collided with the 14-seater matatu in which the students were, said he was unable to avoid the collision. "It happened so fast," he said.
Yvonne Mutundi, another student who died in the accident, will be buried on December 29 at her home in Kitui South sub-County.