Turning plastic waste into cabro blocks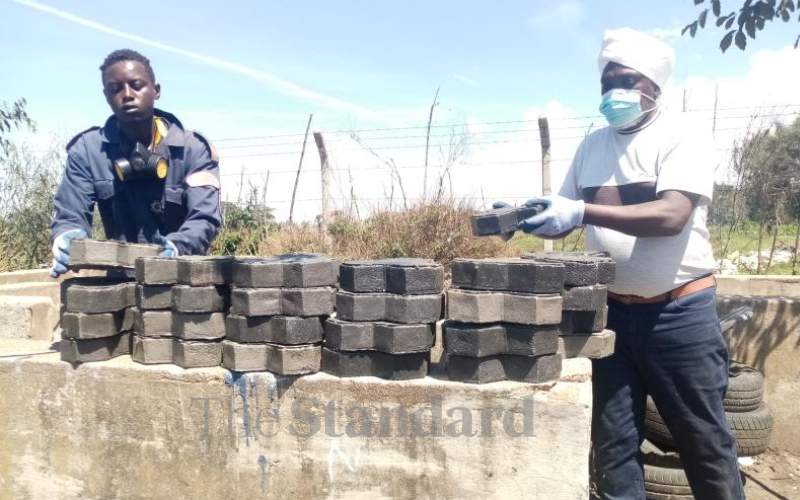 Persevering the scorching sun, he rummages through the garbage as he separates items he perceives useful.
For the last three years, Francis Thuti has been spending most of his hours at the Nanyuki dumpsite collecting glass and plastic wastes. He later recycles them into building blocks.
The environmentalist with a passion for research spent the last seven years looking for ways to recycle wastes discarded at the site.
He started his research into recycling glass after a child in his neighbourhood was seriously injured by a broken bottle while playing outside their home.
"I was disturbed by the discarded garbage and the dangers it possesses to our children. I decided to research online on ways to dispose of the garbage safely," he said.
At the Nanyuki dumpsite, he has sorted and set up a makeshift recycling plant.
There are hills of sorted waste placed in different piles of plastic (hard and light), glass, surgical masks and organic compost.
At the centre of the site, he has a large metal drum where he melts down plastics and crushed glass particles to form cabro blocks.
"Initially, I had a challenge melting the hard plastics, but after a research, I found that I needed a catalyst to increase the heat needed to melt the glass and plastic," he said.
After designing his moulds, he pours out the back melted mixture into the moulds and then cools them down by immersing them into a drum of cold water.
"We heat to between 360-420 degrees celsius, and it takes us between three to four hours to heat the mix to the desired level," he said.
Once the mixture has cooled down, the blocks are removed from their mould and left to dry into paving blocks.
"Cabro was very popular when I started this business. And when I realised I could build them, I requested the county government to offer me a small space at the dumpsite to conduct the recycling," Thuti said.
He believes that landfills are not a permanent solution towards waste management and is focused on finding zero waste solutions to the current garbage menace.
He fills up discarded plastic milk packets with soil to grow seedlings that have formed a garden on the section he works on.
"I have planted thousands of trees, and I am actively involved in greening Nanyuki town and local schools, where I give them the seedlings for free to plant as many trees as possible," said Thuti.
The challenges he faces are a lack of funding to expand his operation and conduct more research on recycling waste.
Besides producing blocks, Thuti also uses the same materials to produce interlocking building blocks, which are in the prototype stage. He hopes to venture into mass production.
Laikipia County government recently allowed him to use the space at the dumpsite for his activities.
Thuti has successfully used the cabro blocks to cover a walkway of 50 meters at Nanyuki Water and Sewerage Company (Nawasco) offices.
"A boost from NAWASCO was an opportunity to showcase my work. The cabro look magnificent and durable," he said.
The environmentalist said he had used the blocks, which weigh about 2.5kg, to cover a walkway of 50 meters.
His cabro blocks have been tested by Kenyan's Ministry of Transport, Infrastructure, Housing, Urban Development, and Public Works. The laboratory report generated by the department endorsed the building blocks.
He said the process requires 100kg of waste to produce a square metre of cabro, with each piece weighing 2.5 kilograms.
For a square metre of this cabro, I need 100kgs, which is 35kg of waste polythene paper, 35kg of waste plastic bottles and assorted plastics, and 30kgs of waste glass, ground to a flour," said Thuti.
"I believe with financial support and researchers from academic institutions, I can expand and create employment for youth. They will earn a living because the world needs solutions to waste management," he said.