Mt Kenya clerics hold peace prayers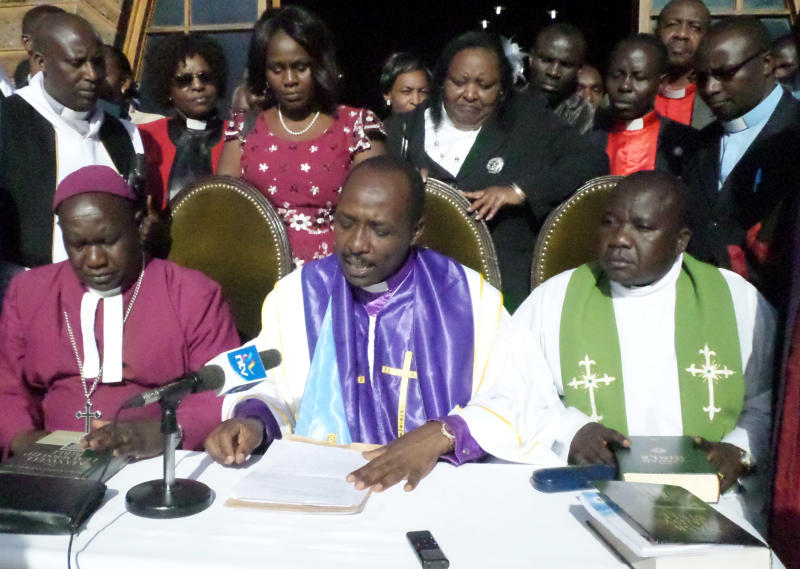 A prayer caravan that was flagged off on Monday in Nyeri County to pray for peace during the electioneering period arrived in Nairobi yesterday.
Other than peaceful polls, members of the clergy will also be praying for the youth, leaders and God's intervention in the fight against drugs and substance abuse.
In Nairobi, the caravan converged at the Kodja Roundabout, where the bishops prayed and poured anointed oil to rid the area of numerous incidents and accidents reported in the area.
"This country is walking on the slippery ground as we head towards elections. There are other forces and altars that are being set up in this county and elsewhere all over this country and it is time for God's banner and His name to be lifted high," said Bishop Paul Wanjohi of New Life Church Nyeri at the flagging off ceremony in Nairobi.
The caravan has been organised by clerics from various churches and denominations from Nyeri county.
He said the Caravan will traverse 11 counties. They are in Nairobi after visiting Nyeri, Laikipia, Meru, Tharaka Nithi, Embu, Kirinyaga, Murang'a, Kiambu, Nairobi, Nakuru and Nyandarua.
The caravan is held once every five years as the country approaches the general elections. The organisers call themselves spiritual gatekeepers of Mt Kenya.
"This is an idea that came from Nyeri whereby every year, we go round the mountain praying that God will give our nation peace," he said.
"We also seek for spiritual intervention to reverse the societal vices which cannot respect the power of a bullet or the power of reconciliation because they are spiritual."
Wanjohi said next year will be a crucial year as the country will witness a change of guard as a new administration takes over.
"A prayer offered at the right time and the right way can prevent even an obvious thing," he said.
National government administration officials were also represented at the launch in Nyeri as well as yesterday's flagging off in Nairobi.
Other clerics in attendance included bishop Jesse Iriri from Kasarani, Bishop Gachiengo from Nyeri and chairman Overseers Pastors Gatundu Fellowship Peter Nganga.