Why men who hide money from their wives have 'a big problem'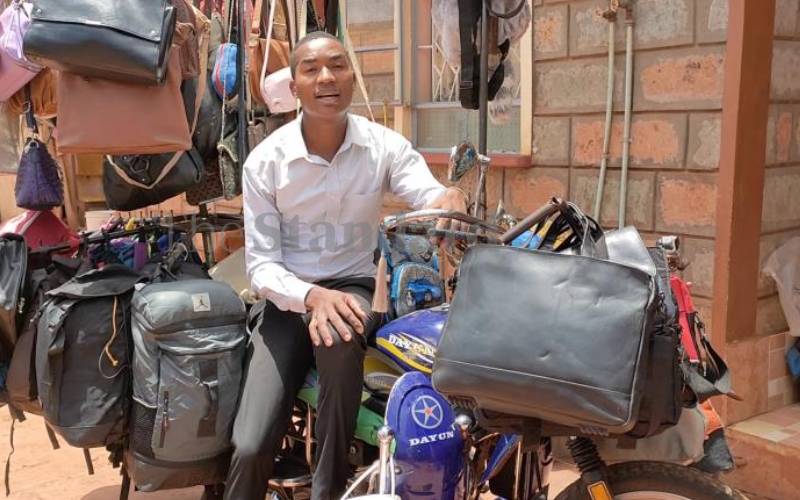 On the streets of Embu, we bump into a sharp-looking gentleman hawking second-hand bags hanged on a modified motorcycle.
Later, at his house in Dallas Estate, Embu town, we find him with his wife, cleaning bags and arranging them on the motorbike.
Born in Meru County, Patrick Mugendi lost his father when he was one month old while his parents were working in Embu County.
Following his father's death, his single mother had challenges bringing up the family and they had to move back to Meru.
While in Meru, Mugendi cheated death when, in the company of his brother, they were attacked by thugs who left them with panga injuries.
"My brother fought off the thugs and disappeared into the dark with injuries. That's when the thugs cut off my thumb then spared me, but with injuries," he said.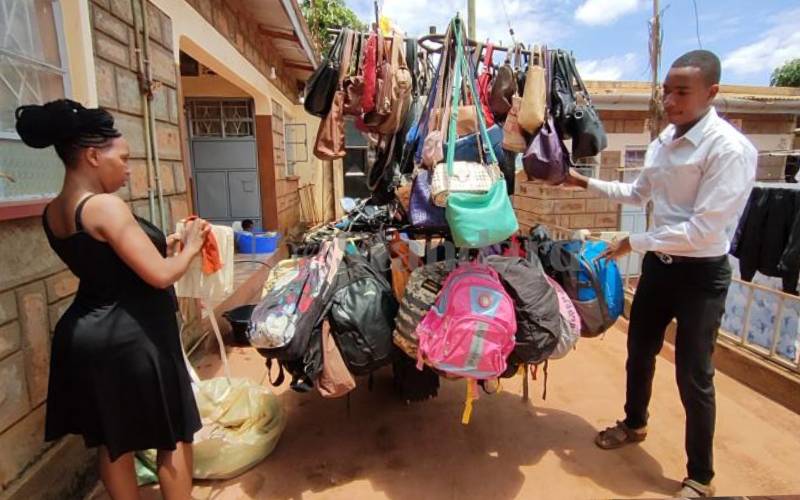 After dropping out of school due to health challenges, the 28-year-old man tried many businesses before he converted his second-hand bag business into a mobile boutique, using a modified motorcycle.
"Initially I would carry 40 bags, walk with them and return home exhausted, but now I am able to carry more than 200 bags on the modified bike," he said.
He started the mitumba bags business with a Sh500 loan but now earns Sh12,000 on a good day.
Mugendi said he had ventured into hawking shoes but the business had several challenges which were aggravated by the Covid-19 pandemic lockdowns.
"I first engaged in sugarcane juice business in Class Seven when I dropped out of school. Later, I joined construction as a casual labourer. Chest complications drove me out of a job and I had to look for an alternative," Mugendi says.
The handbag business has so far enabled him to purchase land and the bike, and he has been able to pay dowry to his in-laws, having married his wife Purity in 2020 during the Covid-19 pandemic.
The staunch Christian said he has to consult God before making any move in his business.
While hawking, the young man takes the business as his office and normally dresses in suits and other official wear.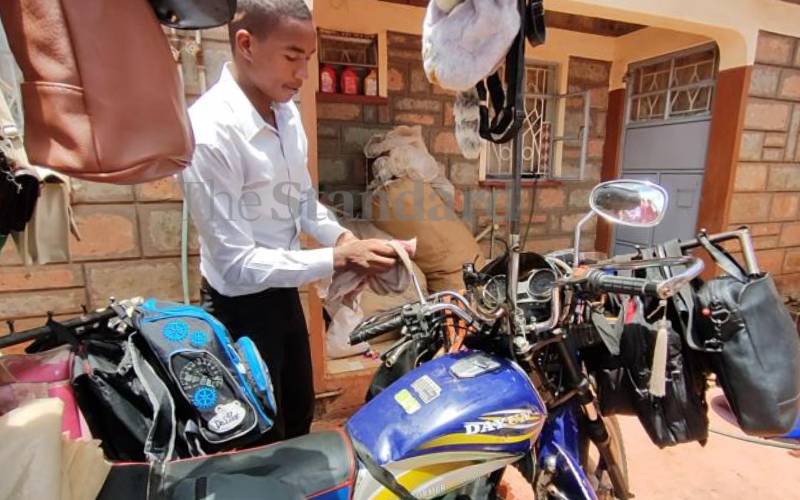 Purity says she met her husband in church in May 2020 before they wedded in church.
"I lost my job due to the Covid-19 pandemic. When we met, the business was challenging but we trusted in God. We have been able to cater for all our expenses even though, when I became pregnant with my baby who is now four months old, my input to the business was minimal," Mrs Mugendi says, revealing she ensures her husband is neatly dressed to attract more customers.
"Behind every successful man is a woman and I have been there for him as I wake up early in the morning to prepare his breakfast and help in cleaning the bags. I have learnt, in this short period, that trust is key and if you find a man hiding money from his wife, then there must be a big problem," she added.
She said that when the husband gets home exhausted, she takes some time to massage him before serving supper. "Even if I am hungry, I have to wait for him unless he has a very late assignment,"
Mrs Mugendi, who plays accountant, says they complement one another in the family business.
The couple advises young people who keep complaining over lack of jobs to try business and to put God first.