Brace for traffic, Kenha says ahead of Mashujaa Day fete in Kirinyaga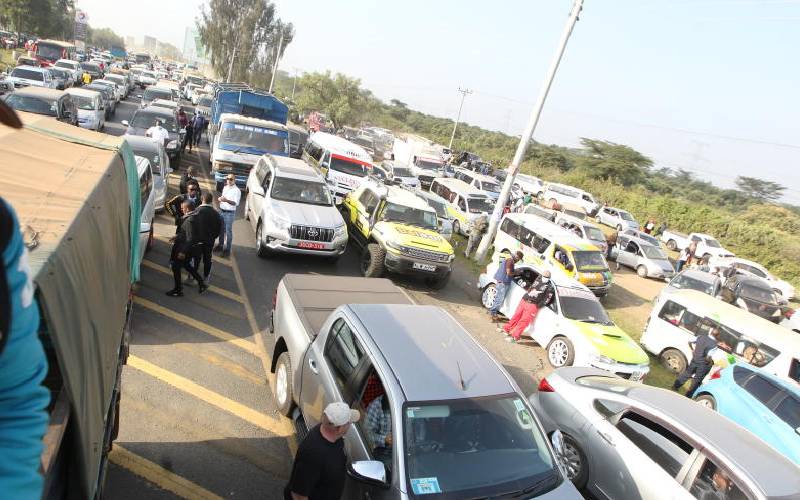 The Kenya National Highways Authority has issued a traffic advisory ahead of the Mashujaa Day celebrations to be held at Wang'uru stadium in Kirinyaga on Wednesday.
Members of the public attending the celebrations will access the venue via the Kenol-Sagana-Marua road which is currently under construction.
In light of the ongoing works, the authority has put in place measures to ensure the smooth flow of traffic.
They include ensuring two-lane movement through the construction corridor as well as engagement of traffic marshals to direct traffic flow.
Further, there is an installation of roads signs to enhance road safety and construction of paved diversions to facilitate ease of movement through the road.
The agency has placed concrete barriers to enhance safety and opened tarmacked sections of the new road to traffic.
Overlapping is strictly prohibited and traffic offenders will be prosecuted.
The sections of road where traffic congestion could be experienced include Kenol Township where pavement works are ongoing.
Heavy traffic is also to be experienced at Murang'a Teachers Training College where the carriageway is shifting from the new road to the existing road.
There will be traffic at Mung'etho where the road shifts from the existing road to a temporary diversion.
Kenha has also warned about the congestion at Saba Saba bridge where construction is ongoing.
Residents should avoid Makutano Junction where the bridge support for the overpass is under construction.
Other problematic areas include Sagana town where road works are ongoing, leading to a narrow carriageway on both sides.
At the Karema-Kiangwaci section where road works are ongoing, leading to the narrow carriageway on both sides, more traffic is expected.
Motorists are advised to seek alternative routes at the Kibingoti area (with a marketplace) where roadworks are ongoing leading to a narrow carriageway on both sides.
Others include the Kangocho-Jambo section, Tumu Tumu Junction/Mukuruweini, and Wariruta town.
Motorists are advised to use the following alternative routes to access their various destinations:
> Kenol-Murang'a-Sagana (41km) for motorists proceeding to Kerugoya-Kutus-Embu/Meru and its environs
> Kenol-Murang'a-Geitwa-Kiriani-Othaya-Nyeri (88km) for motorists proceeding to Nyeri and beyond)
> Sagana-Mukuruweini-Karatina (44 km) for motorists proceeding to Karatina
> Samson's Corner-Kutus-Sagana-Muranga-Kenal (63.5km) for motorists proceeding to Nairobi from Meru/Embu direction
> Kiganjo-Nyeri-Othaya-Murang'a-Kenol (101km) for motorists proceeding to Nairobi from Nanyuki