Third building collapses in Kiambu in two months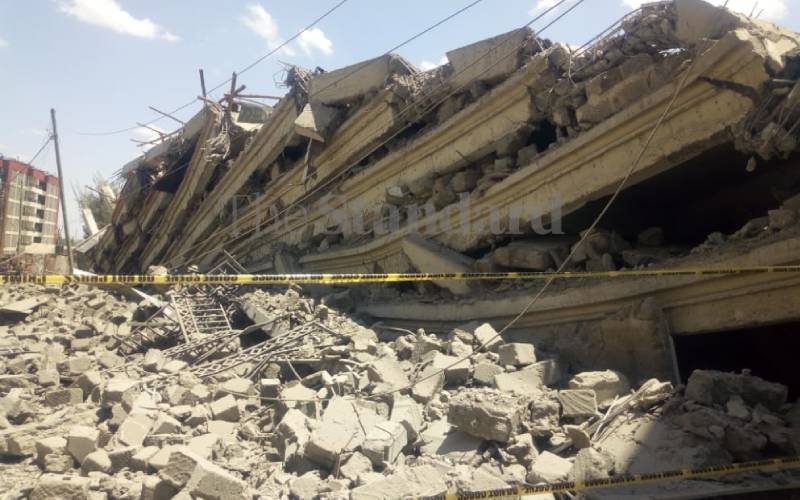 The ghost of collapsing buildings struck Kiambu County again on Sunday morning, leaving a trail of destruction.
Eyewitnesses watched from a distance as a nine-storey building in OJ area in Ruiru crumbled down within a few seconds.
This brings to three the number of buildings that have collapsed in the county in two months.
Ruiru head of the Directorate of Criminal Investigations, Justus Ombati, said the building collapsed at 3.00 am. Luckily, no one was hurt.
"We have cordoned off the scene, and over 50 families in the neighbouring building evacuated," he said.
Currently, a team comprising the County Government of Kiambu, National Construction Authority (NCA), Kenya Police Service have launched investigations into the incident," said Ombati.
He said a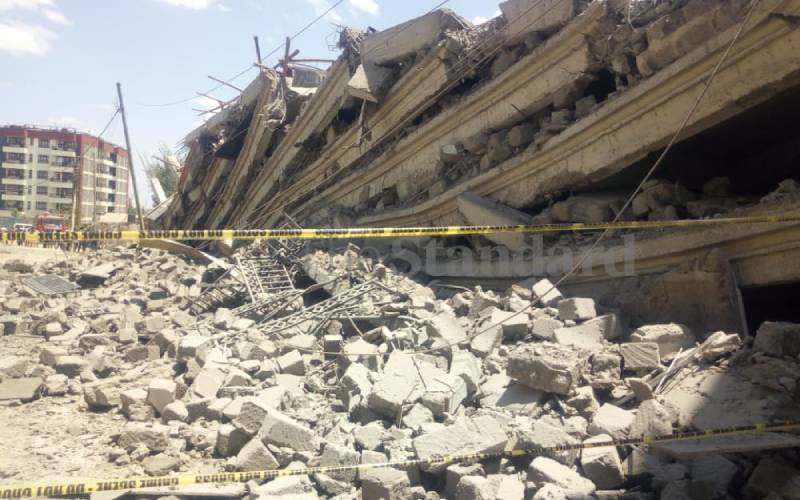 Kiambu Governor James Nyoro had formed a multi-agency tasks force that included the National Construction Authority, Surveyors of Kenya and Board of Engineers in Kenya to investigate the safety of buildings under construction in the county.
Mary Njambi, a resident, said the construction began about five months ago in the swampy area and that it was a disaster in waiting.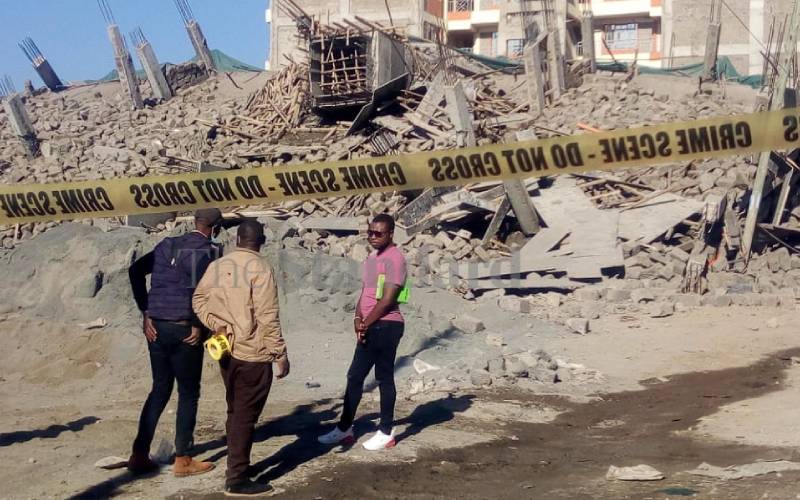 James Maina, a resident, said he initially thought it was an earthquake.
The owner of the building, John Mwangi alias Brownie, said he had all the required approvals before embarking on the construction of the multi-million project.
The latest incident has put the county Lands, Housing and Physical Planning Department in the spotlight.
Margaret Ogaro from National Construction Authority said the Engineers Board of Kenya, National Building Inspectorate, Directorate of Occupational Safety and Health Service would carry out further investigations and audit buildings under construction in Kiambu County.
Two other buildings had earlier collapsed in Gachie and Kinoo.
On August 31, a five-storey building under construction in Gachie collapsed, killing five people. And last month, another building in Kinoo partially caved in, forcing authorities to demolish it.
Pictures by Fidelis Kabunyi.