Murang'a hotel that has stood the test of time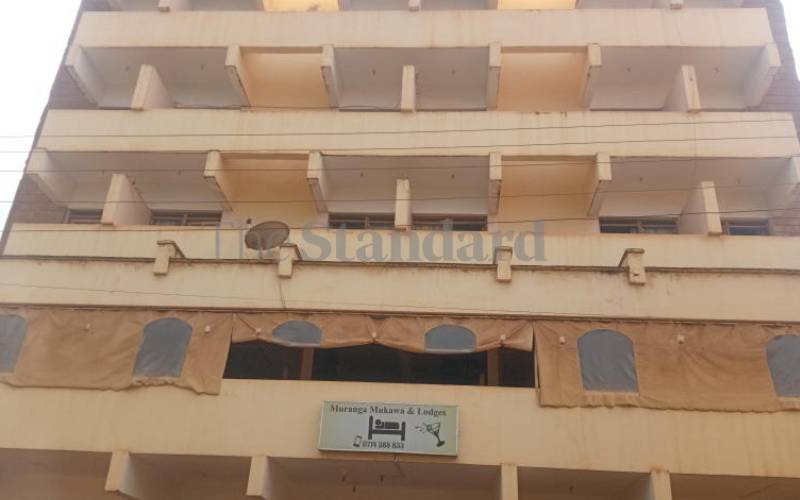 When you are new in Murang'a town and you get lost, your host will probably request you to ask for 'Mukawa', a hotel that has been in operation for 40 years.
The hotel had never closed its doors even for a single day until the Covid-19 pandemic happened.
The three-star hotel was established in 1981 by businessman Felix Gichuhi Macharia who took a loan to build what has now become the county's landmark and the town dwellers' favourite joint for burial preparation meetings.
Located at the heart of Murang'a town near Murang'a Law Courts, the four-story building has had about 30 rooms and a bar on the first floor since 1981 with no changes made in the building setup.
Although Macharia died in 2016 aged 98 years, his legacy lives on as his family is now in charge of the hotel.
Titus Thuo, the son of the late Macharia, said they have maintained the hotel together with their siblings with fond memories of their father who had registered it as a company with three directors, their father, and his two wives.
Thuo said his father taught them the values of hard work, cooperation, and teamwork, virtues that have kept the hotel.
"Many family-owned properties risk collapsing after the death of parents, but our father, despite having two wives had taught us good values, we have never had a family dispute and that has stood the test of time," Thuo said.
To ensure that the hotel would be run professionally, the late Macharia convinced some of his children to undertake the hotel and management courses that Thuo says have greatly helped run the hotel.
He said in the 80s there were no other major hotels in Murang'a District as it was then called and when it opened its doors, senior government officials led by Maina Wanjigi attended the function together with Peter Munga, now a billionaire.
Thuo said due to the firm foundation and family values installed to them by their father, they have not encountered challenges other than the lockdown that forced them to shut doors and the grabbing of their parking bay for visitors.
"Covid-19 disease is the single most challenging problem in the hotel industry and ours is not an exception, we have also had another challenge of lacking the parking bay to visitors' vehicles after the main parking was grabbed," Thuo added.
The clients said the hotel gave Murang'a a place where institutions, government departments, and other agencies could hold conferences; it became a 'headquarter' of politicians and minister John Joseph "JJ" Kamotho who regularly slept at the hotel. The proprietor became a good friend to Kamotho and their friendship saw Macharia's nomination as a councillor in the defunct Murang'a Municipality.
He also became a strong Kanu supporter probably due to his friendship with Kamotho who at that time was the ruling party's Secretary-General and President Moi's confidant.
Former Gitugi MCA Dancun Njuguna, a regular customer, said Kamotho used to invite them to the hotel for political meetings. At one time, the hotel's name was at the centre of a rivalry between Kamotho and his longtime political nemesis John Michuki.
"At one time, Michuki contemptuously told Kamotho that even if he defeated him in the polls, he could not hover around in Murang'a Mukawa for tea and mandazi but he could establish his own hotel industry, and after losing to Kamotho, he established the Windsor hotel in 1992," Njuguna added.
Michuki and Kamotho had faced each other in the Mathioya parliamentary seat in 1988 when Kamotho won during the infamous mlolongo system.