How Limuru residents cope with July cold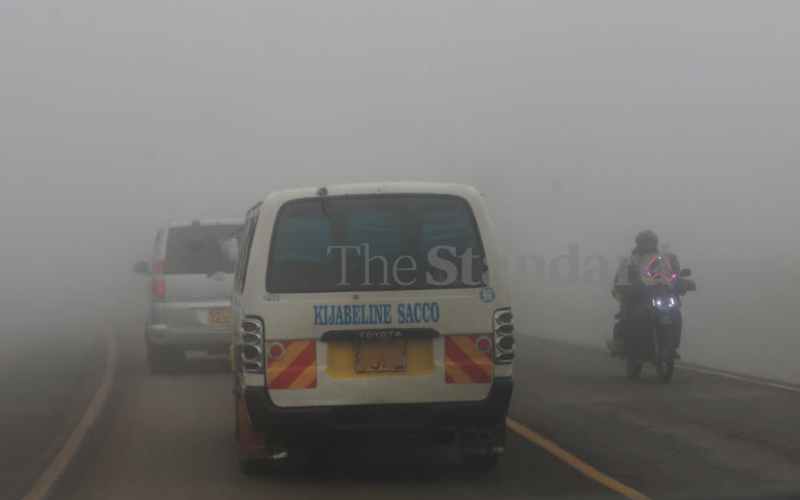 July is the peak of the cold season in Kenya, and Limuru in Kiambu County is considered among the coldest regions.
As such, residents of this 'misty paradise' have to contend with low temperatures and ailments such as common cold, bronchitis and pneumonia.
According to the weatherman, temperatures in Limuru drop to as low as 10 degrees Celsius during the cold season - a season characterised by fog and mist across the landscape, leading to poor visibility.
Most Limuru residents must make compromises to survive the abnormal cold.
A spot check by The Standard revealed that business in the tea-rich highlands has been affected by the cold season, with many entrepreneurs adjusting their opening and closing hours.
While the vibrancy of other towns is felt as early as 5.30am, the sleeping Limuru town slowly wakes up from 8.30am after the fog has cleared.
"After living here for a while, you will learn that clients start trickling in between 8am and 9am during the cold season if the weather allows them to," says Brian Karori, a resident.
Closing hours for many businesses are also pushed back to as early as 4pm or 6pm for some factories, save for those with a night shift.
School hours, especially for pupils in the Early Childhood Development Centres (ECDE), are also compromised. While normal operation time is between 8am to 3.30pm, schools here start operating from 9am.
Heaters are common and a majority of houses have a fire place.
Esther Wambui, who works at an insurance firm, says locals have devised other ways to keep warm. This includes putting on layers of warm clothes ranging from trench coats to turtle necks, gloves, boots, socks and hats.
"Women have also ditched skirts for trousers and have taken to layering to keep warm," adds Wambui.
Tabitha Matheri, a car sales agent, says she takes tea, spicy foods and soups to keep warm.
"You will find people in butcheries in the afternoon taking mutura and bone soup," she says.
Edith Musili says she serves her children hot tea in the morning and ensures they carry hot water in flasks to school.