Polish government opens Sh20 million fire, rescue training centre in Kenya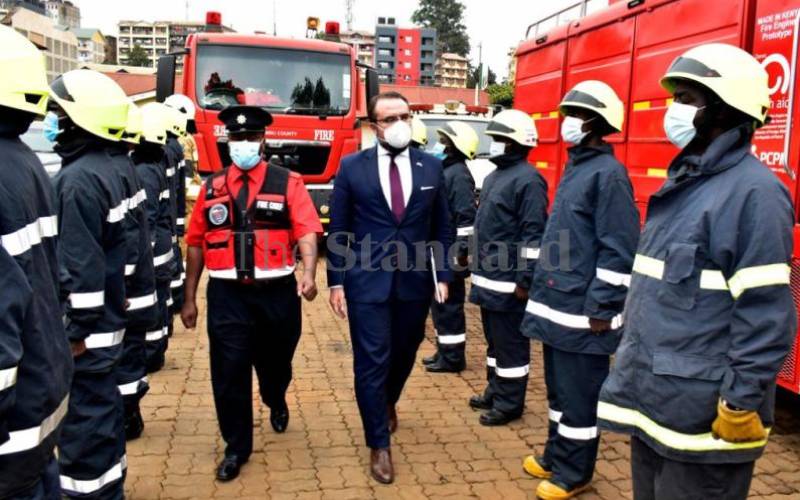 Firefighting in the country has received a shot in the arm following the official opening of a first-ever training institution funded by the Polish government.
The Sh20 million Fire and Rescue Training Centre in Kiambu was officially opened yesterday with the First Fire Fighting curriculum accredited by Technical Vocational Education Training Authority (TVETA).
Speaking during a tour of the facility at Indian Bazaar in Kiambu, Poland Deputy Minister for Foreign Affairs in charge of Development and Economic Cooperation for Africa and the Middle East Pavel Jablonski together with the Poland Ambassador to Kenya Jacek Bazanski, said the training centre will provide high-quality professional education and certification services for firefighters from across the country.
According to Jablonski, the partnership is under the Polish Centre for International Aid which partnered with the County Government through the Poland Ministry of Foreign Affairs.
Polish instructors have already trained over 600 Kenyan firefighters, and have offered firefighting services in over 30 counties. The Polishi government has also donated professional personal protection equipment and gear for their units.
The Chief Fire Officers Association (CFOA) chairman Samuel Kahura said that the fighters are being trained using the latest techniques in combating fire and rescue missions whenever such incidents occur.
"Previously we didn't have high rope rescue, but now we have the skills, at least in 30 counties", he added.
Kiambu Governor James Nyoro said he was very proud of the partnership as it is through it that the county will continue to build capacity and empower the disaster and fire management teams through training by the Polish government.
"I am proud of the 80 graduates as we are now very prepared in case of a disaster and my government will continue partnering with The Polish government to empower the disaster and rescue team with more skills to deal with disasters," said Governor Nyoro
Kahura said counties have been importing fire engines at a cost of Sh60 million but through a Collaboration with Polish Center for International Aid (PCPM), CFOA Kenya have developed a prototype (Isuzu) fire Engine, manufactured in Kenya for Kenya at a total cost of Sh15 million.
"We call upon other counties to come and buy these locally manufactured fire engines as they cost four times less than the imported fire engines and have been customized to a fire engine which is easy to maintain and maneuver on our rough terrain," said Kahura.