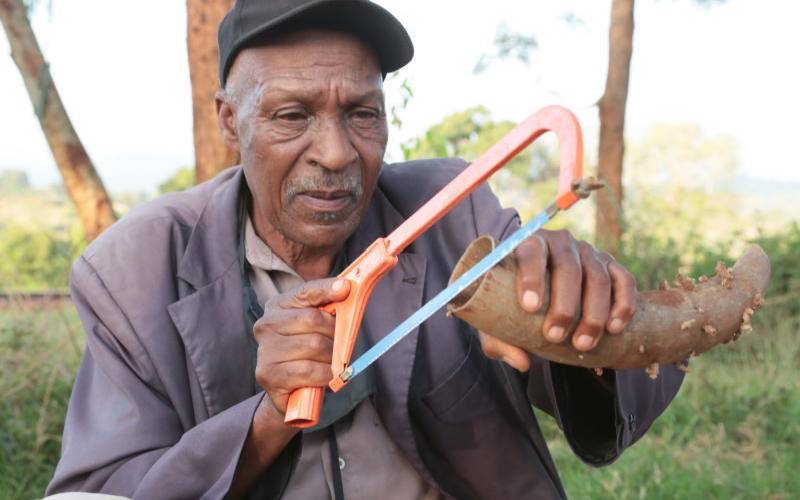 For over 47 years, Muriithi Wambugu has kept alive the traditional art of carving horns into utensils that are used in wedding ceremonies and religious events.
Carefully polished and cleaned drinking horns are part of the Gikuyu tradition. They were made in different shapes and sizes for different genders.
The largest horns were reserved for men who mainly used them to drink the traditional brew (muratina), while smaller ones were for women.
Over time, the drinking horns have been replaced by western utensils such as cups and glasses, but the art of making drinking vessels from animal horns has remained a source of livelihood for Wambugu.
Wambugu has dedicated his life to art since he completed his Form Six education at Njoro Boys High School in Nakuru County in 1976.
He did not want to attend university because he was not interested in academics.
"My mother secured a job at a well-known flour miller where I worked long hours. My salary was Sh450 but I quit," he said, adding that he was also employed at a bakery and quit after a day.
He then got another job at Kenya Wildlife Service where he only worked for a week before he decided to head back to Nyeri's Kirichu village to his grandmother's home.
"I prayed to God to give me an opportunity to be self-employed, and that is when I started my current job," he said, adding that he taught himself to carve the animal horns into ornaments and utensils.
"This is a God-given talent because I don't know anyone in my family who carved horns," he said.
To start off, Wambugu collects the horns from various slaughterhouses in Nyeri, Laikipia, Marsabit and Isiolo counties.
Before he made a name for himself as a horn maker, he used to be given the raw materials for free. "After being featured on media outlets, the butchers started charging me a small fee because they thought I was earning a lot of money."
The art of carving
The collected horns are soaked in water for at least four hours. "It is not easy to remove the marrow but after soaking it in hot water, it softens and can be scraped off with a sharp tool."
The horn is then cleaned and scraped thoroughly on the outside to get rid of any fleshy material.
Depending on the client's preference, Wambugu can add a leather strap to decorate the horn.
His walking stick handle is made out of a horn and has served him for the last decade.
Wambugu says he started off by hawking his products to different towns convincing clients to purchase.
"I knew men would be the target market, so I would walk into bars without a single penny in my pocket and order a beer that would be served in my horn. In no time, curious revellers would approach my table," he said. He chuckled at how lucky he was that he would leave the bars with enough money to pay for his drink and buy food.
His horns are displayed on the roadside along the Nyeri-Nanyuki Highway about 2km off the Kiganjo National Police College junction.
"Over the years, I have stopped travelling from town to town and settled here," he said, adding that his clientele varies but are mainly men curious about the horns or preparing for cultural ceremonies.
The horns cost between Sh500 to Sh10,000 each depending on the artwork done.
His occupation has also faced challenges following a misconception that his work is associated with witchcraft.
"Only a fool would look at their African traditions and dismiss them as witchcraft. I do not entertain ignorant people," he said.
According to Wambugu, the horn played an important role in Agikuyu traditions because it was a key item during social events.
"When a man went to socialise with his friends, his wife would carry his horn and a three-legged stool to the party. Once there, he was served in the horn that he came with," he said.